Ellevest's New-ish Chapter
Nothing bad happens when women have more money is the mantra of Wall Street powerhouse turned fintech founder Sallie Krawcheck.
Those words have catapulted the success of Ellevest to deconstruct the financial system built by and for men and ignite a revolution of women seizing their economic autonomy.
In April, Ellevest announced its $53 million Series B funding round, including investments from Melinda French Gates' Pivotal Ventures. Additionally, 90% of Ellevest's Series B investors are women and underrepresented, contributing to 68% of total funds.
This is a massive milestone given that women-founded companies receiving first-round funding from female VCs are 2x less likely to raise additional funding.
At the end of September, Ellevest officially shuttered its banking product to focus resources, and its team's energy, into what their community says they want most from Ellevest: investing services and financial guidance.
"It's where we believe we deliver the most value to them," Sallie shared with me. "So it just made sense to sharpen our focus on this."
It's a smart strategy for the long haul, too, given that 79% of fintech users crave more financial knowledge from their finance apps, according to Plaid's 2022 Fintech Report.
One of the biggest trends I see personifying in 2023 is community as a competitive advantage for fintech companies. People crave community, whether you're B2C, B2B, or B2B2C.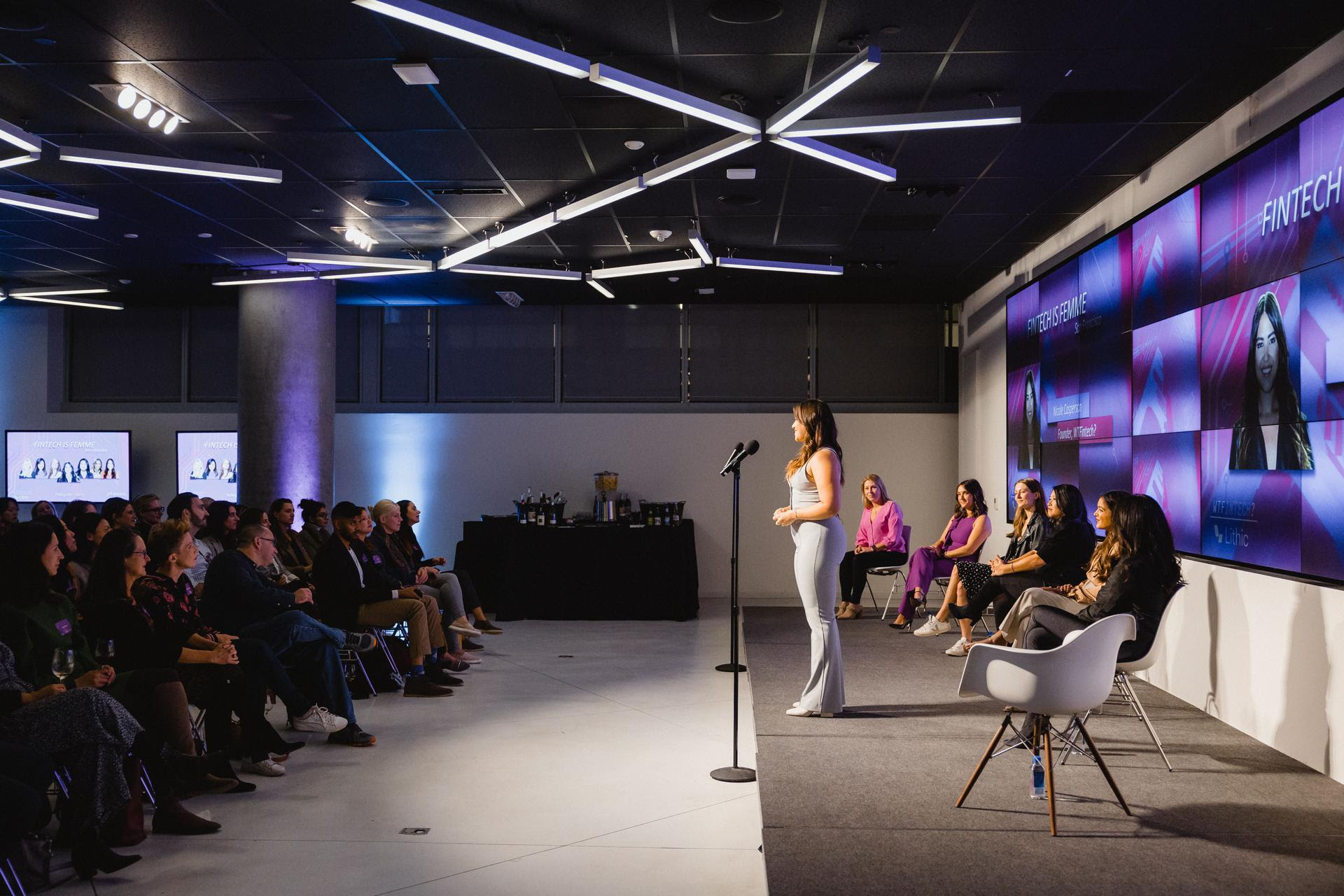 Full disclosure, I'm an Ellevest user and understand this refocus.
Over the years, I've found myself opening my Ellevest app to check on my investments with an appreciation of its investment algorithm, factoring in important realities for women, such as pay gaps, career breaks, and longer average lifespans.
On the financial guidance side, I have applauded Ellevest for offerings like its ready-to-use budget sheets and career coaching. Plus, their content is so frank when discussing how the financial system was designed for him and not for her/them.
So Sallie let me know what we can expect from Ellevest in this new-ish chapter:
"We are experts in building women's wealth, from her first investing dollar to private wealth services," she said. "So look for more offerings along that spectrum, be they updates to our digital offering or increasing the number of impact-oriented private investments, depending on what is appropriate for the individual client."
I say new-ish because Ellevest has already built its community, including social reach, to more than 3 million, according to its website, and $1.5 billion in assets under management.
So the platform is just leaning into what already works, and users crave more.
In a world that treats men as the default and women as atypical, bias and discrimination are baked into our systems – especially the financial system.
There's no "gender neutral" when the default human experience is "male" and the female experience – half the global population– is considered niche.
Ellevest is a huge testament to what action looks like when you design a system built for women. And it's not just for its users but for the fintech industry, too.
The industry average for women on leadership teams is 23%. Ellevest's leadership team is 84% women.
About 11% of the industry's teams are people of color, while Ellevest's team is 50% POC.
Only 20% of women are board members by industry average. Ellevest's board members are 83% women.
Talk about putting your money where your mouth is. Ellevest's most significant advantage is that the product looks and feels like her because the company culture represents its diverse client base.
Ellevest earned something every fintech company strives for: Trust. 
Ultimately, Sallie's persistence to make Ellevest a success stems from her passion for ensuring the next generation of female CEOs have footsteps to follow.
"That's the responsibility I feel to be successful," she said when I profiled her in 2021. "For the next woman, that's the founder of the next company."
And pave a way she has. Ellevest sparked a movement of women taking ownership of their finances and female-founded fintech companies catering their products to women's needs.
Like Vrinda Gupta, the founder of Sequin, Vrinda created a female-focused debit card and financial education platform after being rejected from a credit card she built at a traditional financial institution.
And Kelsey Willock, founder of Aura, built the platform to bring together financial and mental wellness after her own experiences of feeling financially vulnerable.
There are many more, and I've shared the stories of many other fintech founders, investors, and leaders that are paving the way for financial and societal equity via Humans of Fintech.
And if you haven't heard the Ellevest origin story and what lead Sallie to become a fintech founder, keep reading. 
Women are paid 82 cents to a man's dollar. Sallie Krawcheck saw this horrifying reality grossly overlooked from her position on Wall Street.
So, she set out to do something about it.
Sallie Krawcheck is one of the first women to dominate on Wall Street.
But her origins were humble.
She grew up in Charleston, South Carolina, where she lived in a modest middle-class household and shared a bathroom with 5 other siblings.
Though she once defined success as having her own bathroom, now she defines it as accomplishing the mission of Ellevest, the first financial wellness company built by women for women.
Alas, a digital investing platform specifically created for women. What a concept. 🎉😅
Before founding Ellevest, Sallie spent time sharpening her mind on those mean green streets.
In one shocking anecdote, while working at Salomon Brothers, she shared that her male colleagues left Xerox copies of their genitalia on her desk every day for months.
Can you imagine?
Despite their creative, disgusting attempts to alienate her, Sallie refused to buy the idea that women don't belong at the table.
She remembers saying to herself, "They are not going to get rid of me, that's not going to happen, I am going to find a way."
And she did. 💪🏽💗
She eventually found her way in: Research.
She learned quickly that being the numbers person meant you couldn't be ignored and went on to be the CEO of:
Sanford C. Bernstein & Co.
Smith Barney
Citi Wealth Management
Merrill Lynch
Ellevest
POP OFF SALLIE!
Sallie got to the top by resisting stories like:
"Money isn't for you."
"You're not good at math."
"You're not good at investing. You're frivolous and spend your money on silly things."
She sees how women internalize these messages and is here to stop it. ✋🏽
That's in large part why she started the first robo-adviser built by women, for women in 2014.
Sallie understands that for women to fully experience gender equality, taking ownership of their finances and investments is the place to start. 💰
The digital investment platform is dedicated to offer investment products built with a gender-aware investing algorithm.
That doesn't mean it is dumbed down to be "woman-friendly" or decorated with pink bows and ponies. Cause Ellevest is for women…not babies. 🦄🚫
Instead, the fintech platform seeks to deconstruct the system that was built by and for men. Replacing it with a sophisticated, classy investment offering, designed specifically with women in mind in every sense, geared toward making women believe that investing IS for them. ✨
Since its inception, it has also ranked as top 10-performing robo-adviser, beating out Wells Fargo, Wealthsimple, SoFi, Wealthfront, Merrill Edge and Schwab.
LFG LADIES 🤑🎉
Also Ellevest, being the first of its kind, garnered investments from fellow female powerhouses including:
Venus Williams, Mellody Hobson, Melinda Gates, and Penny Pritzker.
Krawcheck has even graced TV screens via The Daily Show with Trevor Noah.
When I spoke with Sallie she said,
"It has been a journey of building a business that threw away the old stories and worked to build something for her,
In an industry with little diversity, I would argue our industry was built for him."
That's why Sallie saw it as her mission to build one of the first platforms to surround a woman with supportive resources.
One that can show consideration for every facet of a woman's life, and that empowers her to build wealth for herself.