Taking stock of climate takeaways
There was a whirlwind of climate news, hot (literally) headlines, and fundraising for climate techs in the first half of 2022. Here are 5 key areas that stood out to me:
🔗 Energy interdependence 
🥴 Supply chain problems 
💰 Funding remains ferocious 
⬇️ Carbon markets 
✨ Honorable mentions 
Energy interdependence: More fragile than expected
Of all the problems facing the world two years into a global pandemic, massive energy market disruptions probably weren't on most people's bingo cards.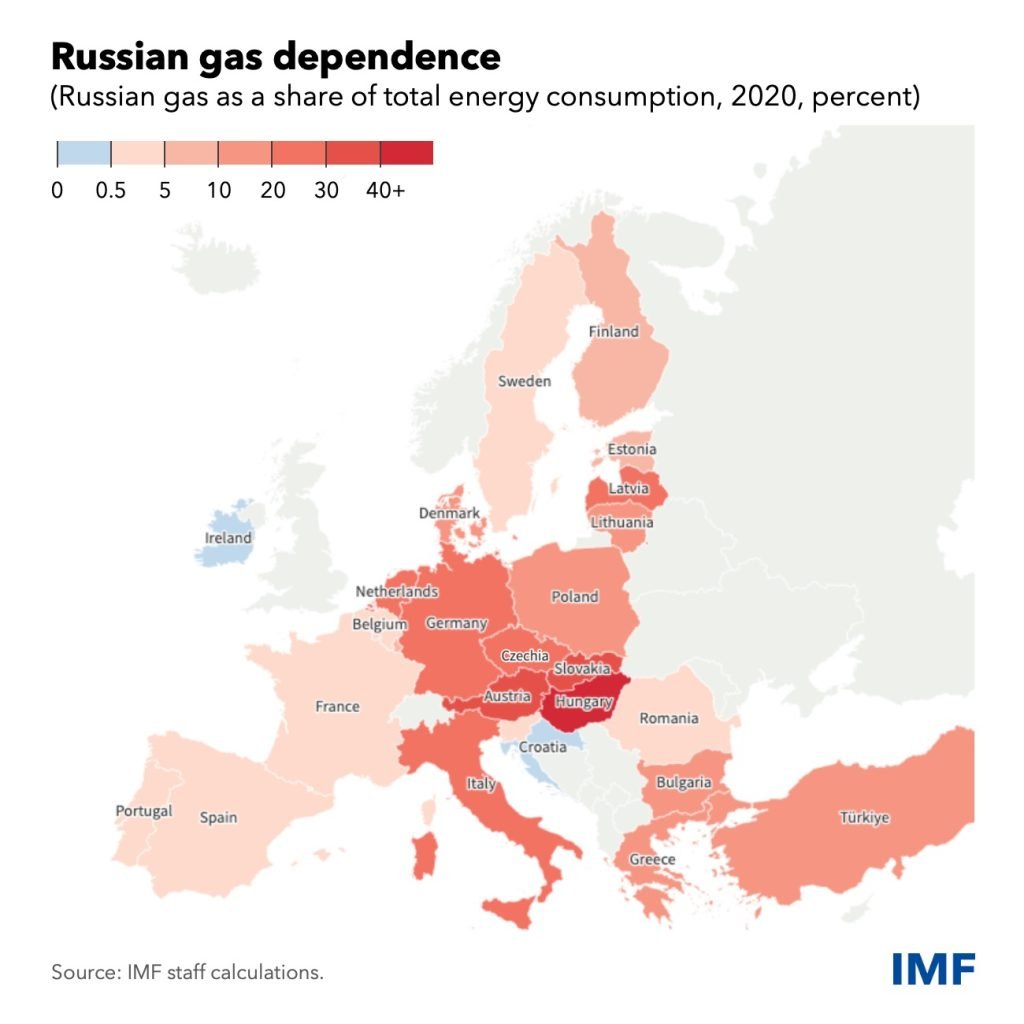 This has occasioned a whole host of reevaluations. How much progress have countries like Germany, leaders in advancing renewable energy, made? By some calculations, a lot. By others, as evidenced by needing to fire up coal power plants again this year to save diminishing natural gas reserves for winter, their situation encapsulates challenges inherent to transitioning to intermittent resources (e.g., German solar generates energy ~12% of the time.)

Perhaps most importantly, Russia's on again off again natural gas supply showcases just how entrenched a fossil fuel like natural gas still is in society, whether for power generation, heating, or creating fertilizer, and why transitioning it will take the rest of our lifetimes (at minimum).
Supply chains: More fragile than expected (pt. II)
A combination of ongoing supply chain disruptions from COVID and the Russian invasion of Ukraine exacerbated other challenges for climate technologies. Semiconductor shortages continued to wreak havoc on industries like auto manufacturing, reducing inventory, including for EVs. The electric and green transition will require tons of chips (as in all other tech sectors). An industry vet I talked to at GlobalFoundries, a global semiconductor manufacturer, says to expect at least 2-3 more years of shortages.
Policy got in the way at times, too. For example, a tariff investigation into overseas solar panel parts grounded hundreds of U.S. solar projects. Eventually the Biden Admin put a two-year moratorium on the investigation and invoked the Defense Production Act to spur renewable energy project development. Whether and to what extent that will catalyze more development remains to be seen.
Climate change itself also plays a role in more frequent supply chain disruptions. Case in point? News this week that the Rhine, one of the most important rivers in Germany and rife with transport, is only a few inches away from being too shallow for larger commodity-carrying ships. Feedback loops, anyone?
Climate tech capital: More resilient than expected
Amidst all the turmoil covered so far and tightening financial conditions and volatile public markets? Private sector fundraising for climate technologies remained robust and resilient.
Specific sectors are running hotter than others. For one, while a bit of moonshot technology, nuclear fusion has pulled in ~$5B in recent years as a sector, counting a new announcement yesterday that TAE Technologies pulled in another $250M.

For the first half of 2022, climate techs raised $19B across 500+ deals. Based on banner weeks, like last week, in which we saw 30+ climate deal announcement, total deal activity has picked up overall. As notes Climate Tech VC:
…midyear deal count grew 76% and 36% compared to the first and second half of 2021, respectively.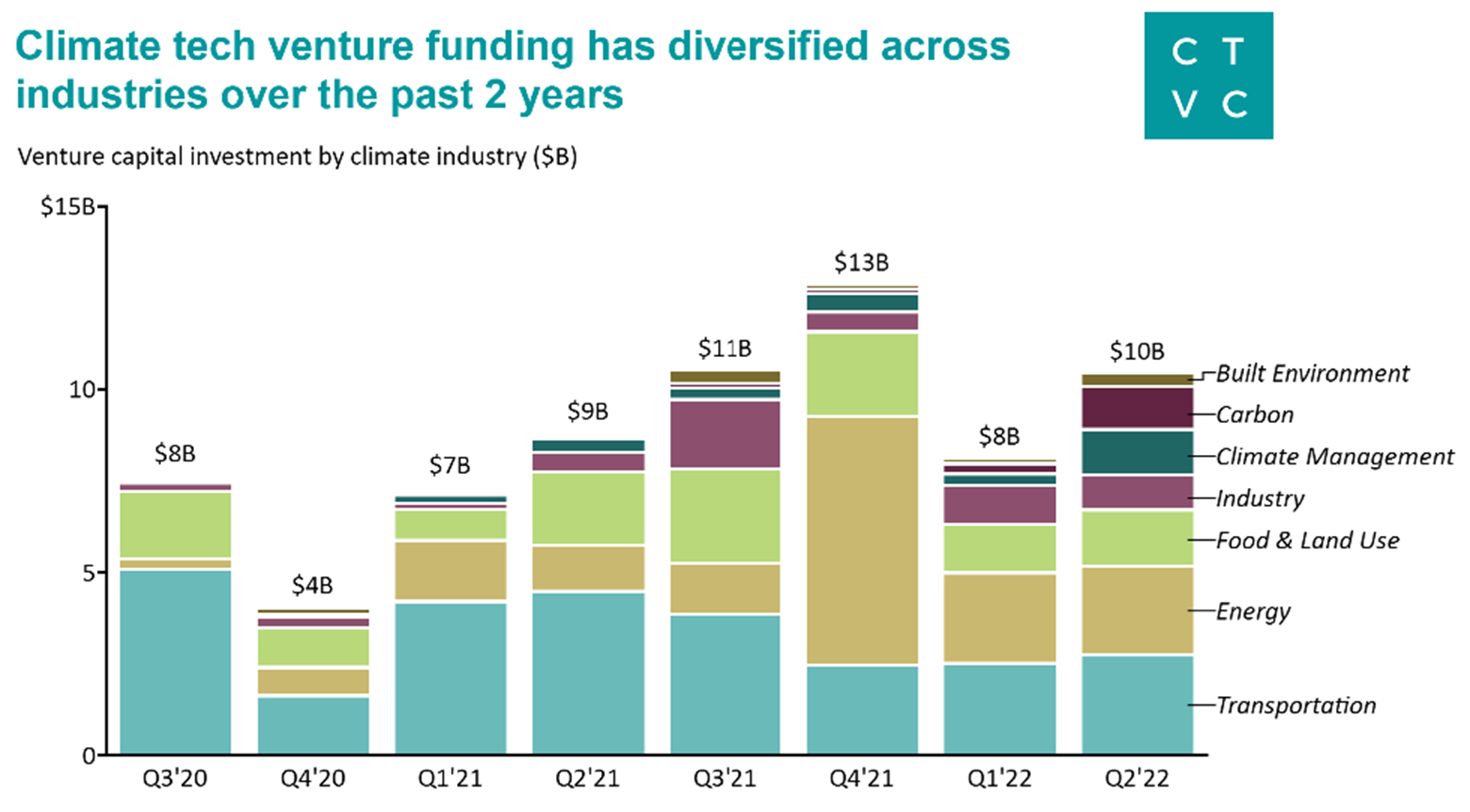 Of course, venture isn't everything. This year has also seen more focus on alternative financing for climate tech startups, with companies like Enduring Planet leading a charge to popularize revenue-based financing and other non-dilutive forms of capital.
Carbon markets: Carbon is king.
In case you forgot already, it was a huge half-year for carbon markets.
All of this comes on the heels of the latest IPCC report, which left little room for interpretation as to whether or not the world needs carbon removal:
The deployment of CDR to counterbalance hard-to-abate residual emissions is unavoidable if net zero emissions are to be achieved.
It's not enough to get to net zero either – ideally, the world would return the atmosphere to 300 ppm of CO2 (as opposed to current levels of ~420 ppm). This will require a negative emissions footprint facilitated by large-scale carbon removal. I discussed this with Paul Gambill, CEO of Nori, a carbon removal marketplace, on our podcast that dropped today.
There are still massive disagreements, debates, and challenges regarding carbon removal. For one, removing carbon with engineered solutions, i.e., those receiving the most funding, is a big time tech challenge. Nature-based solutions have significant drawdown potential, but can be more subject to reversals.
Further, others decry the investment in carbon removal as a whole. To reach zero or negative emissions, the lion's share of progress will come from reducing existing emissions. Does an outsized focus on removal distract from that?
Finally, the biggest challenge beyond removing CO2 from the atmosphere is ensuring accurate measurement and verification of companies' efforts. Without accurate measurement, the carbon removal industry as a whole can't function. And there's a significant funding gap between 'MRV' companies and carbon removal technologies. Also an opportunity, though!
Honorable mentions
Plenty of other climate tech 'verticals' fared well in H1 2022. Considerably private equity investment funneled into producing hydrogen without emissions, whether into companies that produce electrolyzers or focus on end-to-end hydrogen production.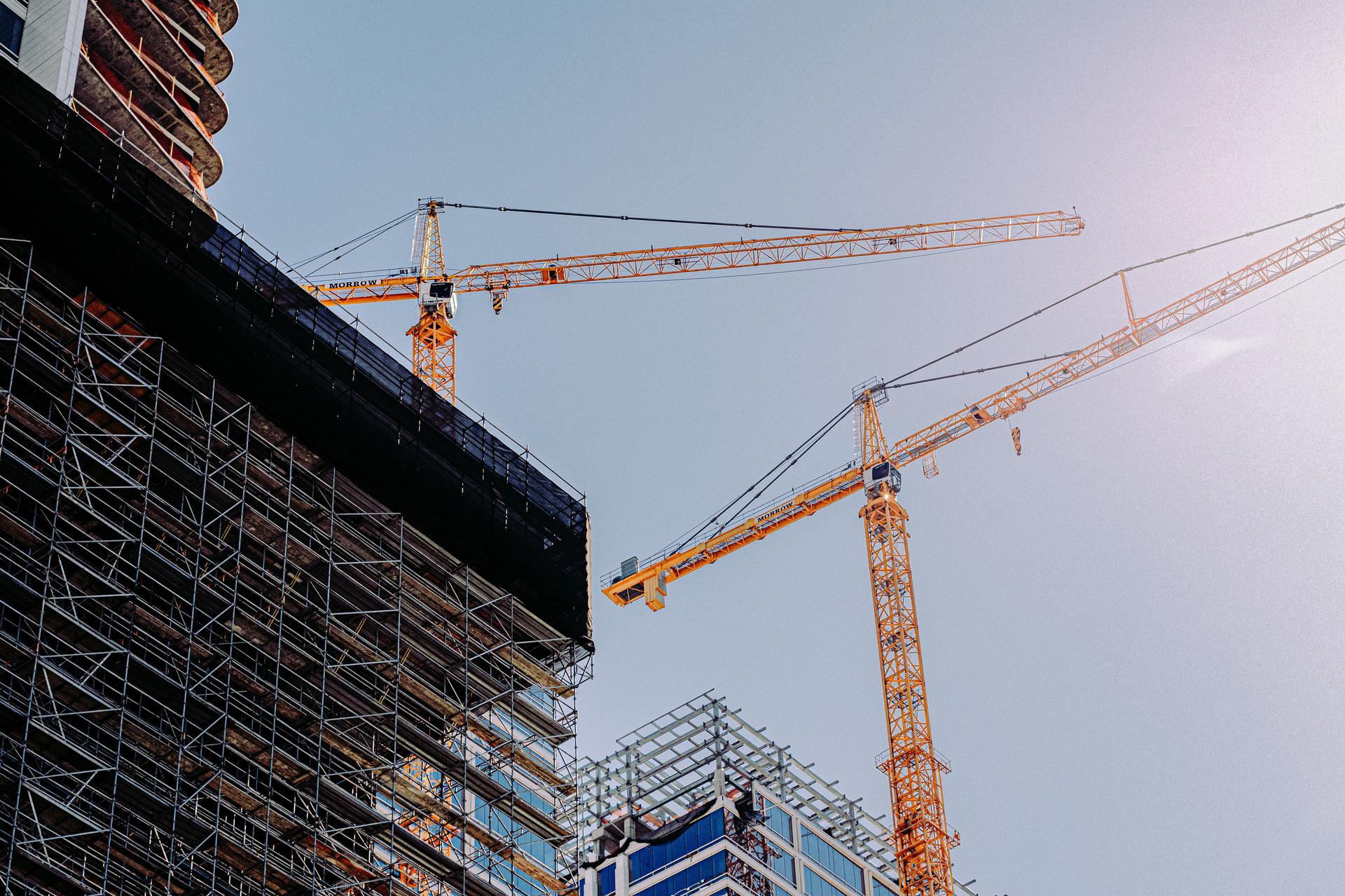 Attention also accrued to startups tackling challenges in the built environment. And rightfully so: The built environment accounts for 40% of greenhouse gas emissions, with the concrete industry contributing a fifth of that (at least). Just last week, three different companies announced funding rounds:
Terra CO2 Technology raised $46M in Series A funding for its low-carbon cement alternative, which leverages feedstocks and waste products.
Assembly OSM raised a $38M Series A for its modular construction startup, aiming reduce embodied carbon in buildings by 30-40%.
Nexii raised $35M to design and manufacture more sustainable buildings that integrate its custom materials, like 'Nexiite.'
Carbon tracking and accounting, i.e., tracing who is responsible for emissions across entire supply and value chains, has also been highly en vogue for investors. Driven partly by the fact that the SEC is moving towards enhanced emissions reporting requirements for public companies, the total amount raised by 'carbon tech' companies grew to $7.2B this half year, according to Pitchbook. That includes rounds for companies like Watershed, a leader in carbon accounting, which hit unicorn status this year.
When an entire sector like climate is hot, many verticals do well. Plus, is climate even a 'sector' anymore? It's starting to look more and more like the 'everything' challenge and the 'everything' opportunity. Food for thought!