Female VC Funding Data… Obscured?
VENTURE
Female VC Funding Data… Obscured?
A colleague sent me an article this week where the author argues that the data measuring venture capital dollars reaching female-founded startups is obscured, and there are more positive trends we could be seeing.
Woah. This article should be going viral.
The idea that the 2% metric I've relied on in everyday discussions was obscured shook me a bit. So I took a step back and came to realize, the data presented to us by media around VC dollars reaching women is really confusing.
One minute we see this 👇🏽
And then we see this 👇🏽
So what's the deal? And what can be done to make this data more clear and precise?
Why It Matters
Last year the $330 billion in venture capital deployed reached 2% of companies founded solely by women and 15.6% went to teams with both women and men founders.
Mimi Aboubaker, the author of the article, said the statistic we should be looking at is about 18%, not 2%. The 18% figure takes into account deals that had mixed-gender founding teams.
18% of $330 billion translates to $59 billion, or 25% of all venture transactions. (Thanks Mimi for doing that math for us).
If these were the figures more people used, companies with mixed-gender founding teams like Alloy, Cityblock Health, and Nubank would be accounted for.
Now, I agree with her that we shouldn't discount female-founded companies just because of a male co-founder. But I can't help but think that the 2% figure, still matters.
I've never been in a VC pitch room, but what I do know is the difference between being a woman by yourself and being a woman with a male partner.
Not only does it make you feel more confident and safe at times, but in a room of decision-makers that are mostly men, the chances of receiving that coveted VC money are likely higher when having a male co-founder.
That's just how the world works.
Here's what I can wrap my head around: New forms of aggregating data for true accountability and a clear picture of the discrepancies.
What We Need
More granular and rigorous data is needed, one that focuses on a deal count basis, disaggregates women founders into subgroups, and benchmarks fund participation, Mimi argues.
Aggregate numbers have distorting factors – combining all venture dollars with both early and late-stage financing skews the ability to see if more women founders are gaining traction as they enter the arena.
This creates a "survivorship bias" i.e., already funded companies receive another round of funding more easily and those figures are dominating the data.
Plus, allocations to women founders should be segmented into racial, socioeconomic, and academic subgroups since women have biases as well. As Mimi wrote:
"Homophily, which underpins the thesis that more women investors will yield more women founders, does not cut on gender lines alone — it also cuts across pedigree, sociodemographic, behavioral and intrapersonal characteristics."
All of these factors make that 2% figure less meaningful than it appears to be at first glance, and ineffective for comparison.
Overall, I'm a believer in acknowledging the truth in order to make real progress. Even at a higher % point in VC dollars to women founders, it's still not at 50%.
Until we get there, we have to keep talking about it, putting actions into place, and calling on the data providers to dig deeper so we can get a clearer picture.
In the meantime, it's on us as an industry to do better. Here are action items to move the needle on equity in VC every day and Women in VC is a great resource as well.
MILLENNIALS
BlackRock's Pres Calls Millennials 'Entitled'
TL;DR: Making headlines this week is BlackRock's President Rob Kapito (65) calling Millennials an "entitled generation" who has "never had to sacrifice" in reference to increased inflation.
What a comment from a cis-white man who earned more than $24 million in 2020.
This, definitely, hits a nerve. Rob calling Millennials entitled for never experiencing sacrifice is about the equivalent of Kim Kardashian telling women to just "get your fucking asses up and work" to be successful.
Can we please get a price check on both of these figures' privileges?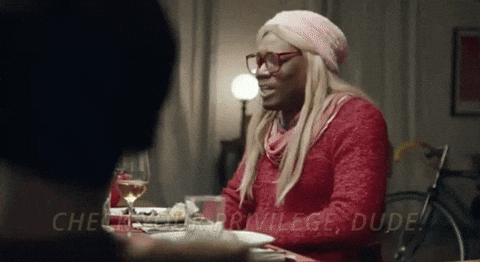 Why It Matters
Millennials aren't entitled about finances, they're hella anxious, have a different set of priorities, and have more tools to build wealth in other ways outside of the "just save" advice our parents told us growing up.
It's also an interesting coincidence that this headline-making statement from BlackRock comes during the largest intergenerational wealth transfer in history that will pass down over $30 trillion in inheritance from baby boomers to Millennials.
And guess what? 70% of Millennials say they'd fire their parents' financial advisers.
Maybe the old man is just, feeling the pressure?
The Fintech Advantage
Rob's terrible choice of words does remind us of THE competitive advantages fintech companies have — capturing Millennials.
In fact, Millennial consumers now have an essentially equal level of trust in nonbank financial providers as they do in traditional finance institutions. I'd bet, the level of trust in nonbanks continues to grow.
According to Plaid, 81% of Millennials say that the more they use digital tools to manage their money, the more they trust them.
And fintech is making it easier for 77% of Millennials to have financial conversations. Plus, a higher percentage of fintech users (78%) than non-users (70%) reported being financially confident and 81% say fintech helps them make smarter financial decisions.
When looking for new fintech applications to try, Millennials (41%) and Gen X (42%) are the most likely to prioritize apps that help them make decisions that would otherwise be too complicated to handle manually.
So while the traditional financial institution leaders want to degrade generations by passing on their own traumas, let's not continue that toxic pastime. Let's use the financial technology we have today to break these molds.
NFTs
NFT Sales are 🔥 and Won't Go Away
TL;DR: NFT prices have been in flux, after NFT sales had a breakthrough year in 2021, volume hit ~$25 billion.
But a months-long sell-off in crypto assets had seemingly impacted NFT sales more recently. Weekly NFT sales have been more than cut in half from its early January peak of nearly $1 billion.
Yet, the Bored Ape Yacht Club and Crytopunks have maintained their dominance in the space, with a recent $90 million sale driving NFT sales as a whole to $300 million over the past week.
Why It Matters
NFTs are clearly not going anywhere any time soon. For me, popular projects like the Bored Ape Yacht Club lends itself to share an even cooler NFT project worth the investment: Women in VC.
Women in VC is a community of 4,000 women investors across 2,500+ VC firms spanning 65 countries. To celebrate the communities growth, Women in VC partnered with Crypto Lady Gang to curate its first NFT drop, which kicked off yesterday! Check it out here.
Other web3 NFT projects involved include MetaAngels, Web3 Equity, Timepieces, House of First, Remarkable Women, We3, Knights of Degen, and more.
The collection is a limited 4k supply with 13 incredible female NFT artists from around the world, with the mission to redefine what an investor looks like in 2022.
And the art features women of all different ethnicities, cultures, and life experiences holding the currency of their country, with the intention to empower women to take control of their relationship with money and elevate the importance of financial literacy.
Mint proceeds will be going to the artists, career progression opportunities for women investors, and donated to Women's Employed and Girls Inc., two inspiring organizations that have a mission to elevate confidence and provide financial literacy and education for women and girls.
This is the NFT story that should be going viral – spread the word!
WTF ELSE?