Is Hallmark the blueprint for a modern media co?
On February 14, 2022, it was estimated that there were more than 145M Valentine's Day cards exchanged in the US (and that's not including the cute ones passed in classrooms).
In a digital world, few things have maintained physical relevance as much as Hallmark cards.
And the numbers agree —
Hallmark is one of the largest family owned companies in the country, with expected revenues north of $3.5B and more than 27,000 employees. In a world where we hear every company is a media company, few are executing it better than Hallmark.
Let's get into how it's happened and how they represent how a "non-media" company turns themselves into a media company.
Entrepreneurial instincts
JC Hall was a high school dropout in Nebraska. He and his two brothers put their entire net worth into postcards in 1913.
Why? They believed with the rise of the train system, physical mail would be the next big line of communication. So, they moved to Kansas City to capitalize on the city's robust rail system.
But in 1915 a fire gutted their shop — taking their entire inventory with it. The brothers were down and out, but were able to get a loan from a local bank. It put them more $17,000 in debt (almost $500,000 in today's dollars).
With the loan, they decided to invest in one large purchase: a printing press.
Not long after, their customers were telling them that postcards weren't private enough. You couldn't be vulnerable or emotional if everyone could read what you write. So, the brother's pivoted to greeting cards…
… and the Hallmark Empire was created.
Keeping top talent
As any media operator understands, it's really hard to keep top talent. I've often said that, in media, a 10X creator is as real as a 10X engineer at a SaaS company.
Hallmark's been able to keep their top talent.
Mary Hamilton could be seen as the Babe Ruth of greetings cards. She was employed with the company for more than 60 years, her last title being Master Artist. Over her 60 years, Mary routinely designed the top greeting cards, ornaments, and figurines.
Her work became so popular, she would receive fan mail routinely.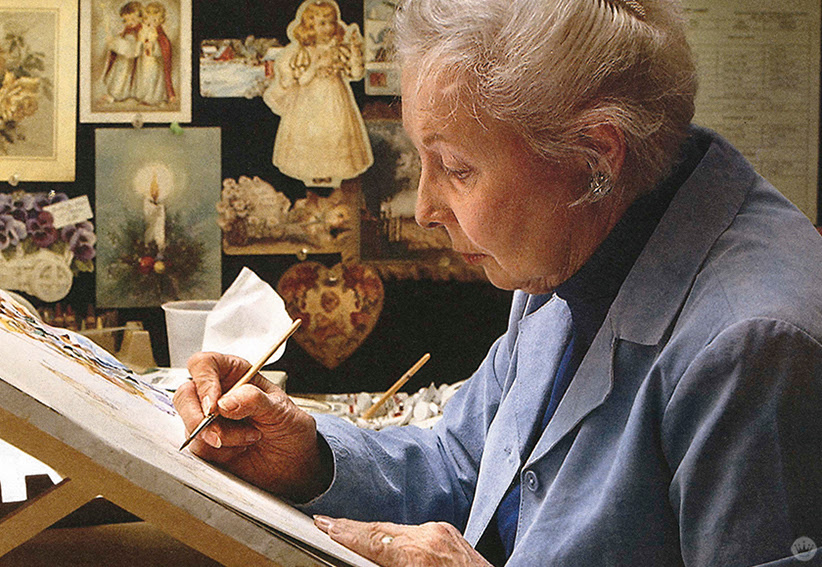 Source: https://www.thinkmakeshareblog.com/hallmark-master-artist-mary-hamilton/
You may think this is crazy, but Mary isn't the only one…

From my own research, Hallmark has at least 4 artists on staff that have been with the company for more than 25 years.
Cultural liquidity
If this is your first time reading Perpetual, you may not know that it's my belief that the best media companies are at the forefront of culture. It doesn't matter if it's B2B, consumer, or cheesy Christmas movies — media is at the forefront.
And those media companies are built on cultural liquidity.
"Cultural liquidity" is a term coined by one of the smartest people I know, Henry Ault, to represent the amount of currency you've built by being able to be at the forefront of culture.
Hallmark has been building their cultural liquidity since its earliest days.
One example? In 1932, the Hall brothers started dabbling in licensing. They signed a deal with Walt Disney to allow Disney characters to be on greeting cards. It was one of the first license agreements Walt Disney signed (imagine that), and this deal's success is credited with helping Hallmark weather The Great Depression.
Another good example: When Hallmark aired its first movie on Christmas Eve in 1951. It was a smash hit. When asked later about why he invested in the film Hall said, "I do not have a philanthropic attitude toward culture. The simple truth is that good television is good business."
J.C. Hall knew that being at the forefront of culture and investing in media could move the needle.
Hallmark continued into the 1980s when they acquired Crayola in 1984 for $250M. Purchasing the beloved crayon company allowed them to capitalize on the brand recognition of Crayola and the cultural phenomenon of children's love for coloring.
The move created a flywheel of products for children's greeting cards and physical products — and today Crayola does more than $750M in annual revenue.
Innovation
As I talked about in last week's newsletter with Disney, the best media companies continue to innovate from within. Whether a company innovates a user experience, operations, or business models, there's no doubt that the spirit of innovation exists among the best media operators and organizations.
Hallmark is no exception:
In 1919, they ran out of tissue paper and used a nicer French paper to wrap the gifts. They created what is now known as wrapping paper.

When you go to a CVS and see the aisle of greeting cards, there's an experience of choosing a card — we all know what I mean. But this wasn't how it always was. Hallmark actually built that design to make the experience more engaging versus the previous experience of stacking cards and not being able to see all the options.

Any 80s kids here? You folks might remember Rainbow Brite, the colorful adventure in Rainbow Land. Hallmark designers created the character to compete with American Greeting's Strawberry Shortcake character. At her peak, Rainbow Brite was one of the country's top children's media icons, complete with toy licenses to Mattel, an animated TV series, and an animated feature film released in theaters.

Even though Hallmark's core competency is greeting cards, they're unafraid to innovate in their industry. Whether it has a direct impact on their P&L or not, their innovation allows them to stay in front of their customers' needs and wants, thus in front of industry trends. Cultural liquidity is how you sustain a business for 120+ years.
Hallmark Channel
Even though Hallmark's revenue for the first 80+ years of their existence was driven from retail, they captured the spirit of a media company. In 2001, they evolved this spirit into a business with the launch of the Hallmark Channel.
Hallmark movies, as weird and somewhat entertaining as they are, are now one of the most significant moats for the business. More than 80M people every year watch at least a few minutes of a Hallmark movie.
Is that outcome worth the investment? Yes.
Hallmark has created an incredibly profitable marketing channel that reaches almost ⅓ Americans during the highest times of intent to purchase a greeting card. Check out the math:
Hallmark now creates more than 100 movies a year.
Each movie is budgeted close to $1.5M and production time not doesn't last for more than 3 weeks.
Doing quick math, that means Hallmark is spending $150-$200M a year on production.
The business has leaned into advertising and now has revenues of more than $700M annually — almost a fifth of Hallmark's total revenue.
Many companies have attempted to buy their way to this flywheel (i.e. Robinhood/MarketSnacks & HubSpot/The Hustle) and the companies immediately cut the advertising departments because they don't want to be burdened with such a business line.
Hallmark may be an example of why that strategy is incorrect.
What shocked me even more? Hallmark films have been successful, not just for their bottom line – but they're critically acclaimed.
Hallmark has taken home more than 81 Emmys in its history. In addition, their Christmas movies spurred an event called ChristmasCon, an event where more than 9,000 people show up annually to meet the stars of Hallmark films.
You may be thinking, "But those movies are so… predictable."
That's not a mistake. The formulaic plots and predictability of their films are rewarding, especially to viewers who are trying to unwind from the stress of the holiday season. According to behavioral scientist Pamela Rutledge, "The genre is well-defined, and our expectations follow. This enables us to suspend disbelief."
What's the other major media company that has a core focus of suspending disbelief?
Every company is a media company
If you scroll Twitter for more than a few minutes, it's hard to not see some claim that "every media company is a media company." You'll see examples like Red Bull, HubSpot, Tesla, and other category leaders.
The reality? Few have done it longer and better than Hallmark.
Their product has no moat. It's built on capturing emotion and great content, just like any other media company — but they've been able to sustain their success for 120 years.
This century-old $3B family business has thrived by keeping their top talent, innovating within their industry, adapting their business model, and embracing who they truly are — storytellers.