The Downfall of Babylon Health
Join 24,000+ executives and investors from leading healthcare organizations including Privia, Optum, and HCA Healthcare, health systems including Providence, Ascension, and Atrium, as well as leading digital health firms like Cityblock, Oak Street Health, and Turquoise Health by subscribing here!
If you're having a bad day, just take heart in the fact that you did not destroy $4.1 billion in investor value in a year and a half.
Turquoise Health is hosting a webinar on AI in Payor and Provider Contracting on May 25. Register here.*
*sponsored
Upcoming Hospitalogy Events:
Dallas-Fort Worth folks – I'm hosting a Dallas healthcare networking event at Community Brewery on June 8. Join me! Save your spot here.
Babylon's Exodus
The Fall of Babylon: I don't relish in the failure of digital health companies – or any business, really. I'm generally a very positive person and hope/wish for the best, especially in healthcare. But firms like Babylon and Envision kinda had it coming for the ways the companies treated investors and patients.
Babylon declared de-facto bankruptcy on May 10th, although the press release doesn't really tell you that in a straightforward fashion. Under the "take private" transaction, which Babylon was somehow "pleased to announce" despite quite literally destroying all shareholder value, Babylon's largest lender AlbaCore will inject another $34.5 million of capital into the cash-bleeding operation and restructure some lending terms. Once private, AlbaCore will then slice up Babylon's operations how they see fit.
The transaction leaves existing shareholders – who at one point were hoping that the 'world leading, digital-first, value-based care company' would deliver on that promise – high and dry.
And down goes Babylon in true Old Testament biblical fashion.
But what went wrong here?
Babylon had every opportunity for success. It went public via SPAC at an equity value of $4.2B (EV of $3.6B), raising $460M with a naive SPAC investor deck scant on details.
The firm touted its use of AI and virtual first primary care as a key differentiator to transform healthcare and grow margins.
Through that differentiated, virtual first care model, Babylon expected to hit breakeven adjusted EBITDA in 2023.
Babylon entered the U.S. through acquiring lives and 'revenue' at a rapid clip after going public, picking up Meritage Medical Network and First Choice Medical Group in 2021 – picking up around 50,000 capitated lives.
But in hindsight these were bad acquisitions. Recall that agilon was the operator that sold First Choice to Babylon. agilon decided to exit the California market altogether in 2020.
First Choice was not a desirable asset to acquire – after agilon sold out of California (search for "California operations" in the S-1), the enablement player noted that the move would have a 'major effect on its operations and financial results.' It incurred an impairment charge in Q4 2019 of $98.3M on the Cali book of business. And Babylon bought it off of 'em. Babylon bought a falling knife.
In this case, the knife was a rusty prison spoon dropped down the sink.
Here are the financial results of agilon's discontinued combined California operations (which includes First Choice):
And based on how things are going with Meritage Medical Network – Babylon couldn't find a seller over the past 6 months despite hiring a 'major investment bank' to shop it – sounds like that acquisition hasn't fared much better.
Through the botched U.S. entry, losses piled up.
Instead of hitting profitability goals, Babylon lost -$212M -$274M in 2022, and -$45.8M in Q1 2023 alone, a far cry from the SPAC projections…again – a mere 18 months ago. Babylon hemorrhaged cash from the beginning but decided to continue its focus the narrative on AI, member growth, and revenue.
Once Babylon realized it was nowhere close to profitability and the macro environment turned, it ran out of runway quickly despite several last gasp funding attempts and an egregious reverse stock split.
As a result, the firm now holds a market cap of $21.7M today.
In hindsight, it's easy to see. How could a healthcare company with assets strewn across the globe provide any sort of sustainable value? But maybe GPT-4 will help it turn things around.
Babylon's failures leave us with a simple lesson in value-based care. Nobody cares if you're acquiring patients and scaling 'gross' revenues at high growth rates if you can't control the damn medical spend. You're basically lighting money on fire like the Joker in that one Dark Knight scene (ahem, also looking at you, Bright & Clover).
The difference between pulling a Joker and lighting $10,000 on fire versus investing that same amount in Babylon over the 18 months it traded publicly amounts to about…a $36 difference today.
The company is the perfect epitome of the speculative exuberance, SPAC bubble, and irrational valuations that existed a short 18 months ago.
Shout out to one of the worst public runs for a digital health company, ever, and special thanks to Babylon for providing us with one of the greatest chart crimes of all-time in healthcare. Note to every digital health in existence, from a former consultant: Please don't depict adjusted EBITDA margin like this. Ever: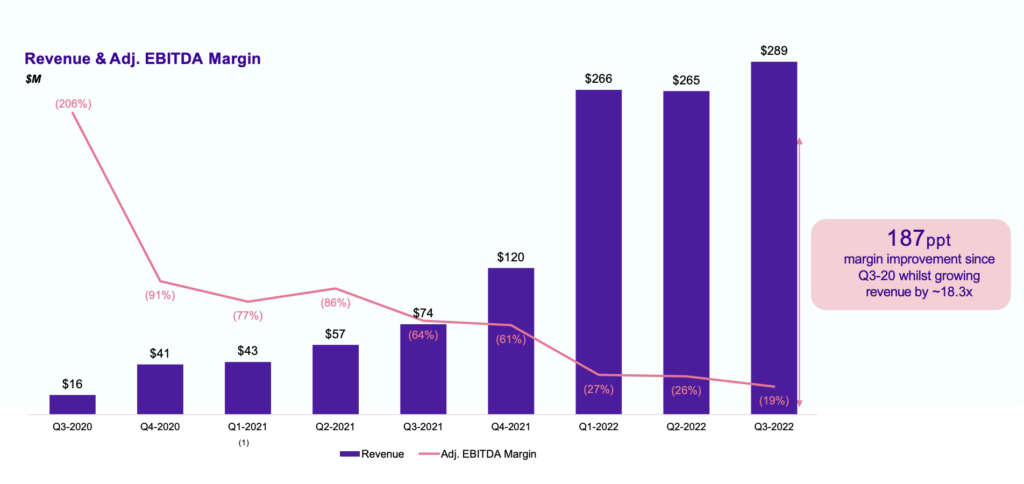 Envision Files for Bankruptcy
This week, the Wall Street Journal reported that Envision Healthcare, after a long and beleaguered battle, has filed for chapter 11 bankruptcy protection.
In case you missed it on Thursday, I wrote about the rise and fall of Envision healthcare, which you can read here.
I have a few more updates on Envision after poking around, including an internal memo from Envision to their employees on its chapter 11 filing and FAQs. Bottom line – everything will be business as usual while existing lenders take over Envision and AMSURG. KKR is out of the business completely, but the failure raises questions around other highly levered names in the physician practice management space.
Partnerships and Strategy Updates:
A nice report from McKinsey analyzed several trends in hospital nursing. The analysis found that actual RN turnover in hospitals increased from 18% to 27% from 2020 to 2021 and 2.5% of nurses QUIT in 2021, a significant double whammy. While turnover has reduced to 23% in 2022, it remains elevated compared to pre-pandemic levels. Nurses are leaving the profession entirely or changing employers/roles, with 35% intending to remain in direct patient care and the remainder pursuing different career paths or exiting the workforce entirely. Lots of good tidbits in here for hospital admin. (Link)
UnitedHealthcare is facing backlash for requiring doctors to get prior authorization for colonoscopies performed for diagnostic purposes, a move that some doctors say could delay or deny care for patients with colorectal cancer. This policy change underscores the ongoing debates about insurance coverage and the fine line insurers walk between cost containment (prior authorization) and patient access to care. UHG defended its actions, stating that the policy change is necessary to crack down on unnecessary colonoscopies. (Link)
Here are some resources for healthcare operators & professionals to understand the public health emergency changes:
Trilliant's latest analysis had some great insights into the 'New Normal' and utilization trends. (Link)
KFF's Medicaid redetermination tracker, analyzing which states are disenrolling Medicaid beneficiaries and when. (Link)
HHS' overview and fact sheet related to the PHE. (Link)
CommonSpirit Health announced plans to have virtual nursing in every market it operates within the next 5 years. The system, which has more than 140 hospitals and 700 care sites across 21 states, has already rolled out virtual nursing in certain markets. (Link)
After asking for public commentary on the proposal, the FTC is expected to vote in 2024 on the rule that would ban noncompete clauses in employment contracts – a move that would have significant ramifications particularly on physician employment in healthcare. (Link)
North Carolina has been doing some funky healthcare stuff lately. A controversial bill passed the North Carolina Senate in early May, which would exempt UNC Health from antitrust enforcement in the state and federally, letting the academic medical institution to enter into partnerships without any sort of regard for impact to local market competition. (Link)
Also happening currently, BCBS North Carolina is advocating for a bill that would allow itself to restructure itself with more corporate flexibility, freeing up some withheld state insurance reserves and letting the nonprofit make investments and moves in a more agile fashion. (Link)
Meanwhile, South Carolina's House unanimously approved a healthcare bill that will repeal its CON program outside of nursing homes and other long-term care facilities. (Link)
Oscar announced plans to exit the California market completely. (Link)
CVS shut down its clinical trials business after just a couple of years in the space. (Link)
Cano Health decided to call it quits on certain non-core assets. (Link)
Finance and M&A Updates:
Premier Inc. disclosed that it's exploring a potential sale or other strategic alternatives in yet another company getting washed up in M&A. The company said its board of directors has established a special committee to evaluate strategic alternatives, including a potential sale of part or all of the company. Premier, which purchases supplies on behalf of hospitals, said it is exploring strategic alternatives to "ensure the company is best positioned for future success." The company said it is facing "evolving market dynamics" and an "uncertain and challenging operating environment." (Link)
According to the WSJ, two of the largest tenants of Medical Properties Trust (MPW), Steward Health Care and Prospect Medical Holdings, have hired financial advisers to help them refinance their credit lines. It's a huge blow to the healthcare real estate investment trust after maintaining a facade of good financial health to retail investors. (Link)
Othopedics is experiencing significant changes, driven by factors like consolidation trends, an aging population trying to get those joints replaced, value-based care initiatives and bundled payments, and the growing role of technology. This evolving landscape is shaping new opportunities and challenges for orthopedic practices, with a particular focus on enhancing patient care and operational efficiency. The following article was a nice overview of the high level trends happening in the business of Orthopedic practices and why it's one of the hottest specialties. (Link)
This essay from Foley was an interesting discussion on the role of artificial intelligence in healthcare M&A. Its role in healthcare mergers and acquisitions (M&A) is growing. AI-powered technologies are being used to improve the efficiency and effectiveness of M&A processes, and they are also being used to identify and evaluate potential acquisition targets. (Link)
HCA Healthcare expects to invest $4.6 billion in land for new hospital development and other projects in 2023. The company said it expects to open 10 new hospitals in 2023, including four in Texas, three in Florida, and one each in Arizona, Colorado, and Tennessee. HCA also plans to invest in outpatient facilities (clinics, urgent care centers, and surgery centers) to support new hospital construction. (Link)
Pitchbook published its Q1 2023 healthcare services report. Private equity dealmaking in healthcare services declined for a 5th straight quarter. (Link)
Kidney care provider U.S. Renal Care raised $328 million to fund continued growth and expansion in the…get this…United States. Ha! (Link)
Digital Health and Startup Updates:
Emory Healthcare and Emory University's Goizueta Institute have teamed up with NeuroFlow to scale their integrated behavioral health program. NeuroFlow's behavioral health integration software will support the delivery of psychiatric services at Emory's primary care clinics. The partners will also pilot a primary care suicide prevention program. The initial rollout of NeuroFlow will begin at one clinic and expand to three more next year. (Link)
Cedars-Sinai created a new center focused on advancing artificial intelligence and machine learning. (Link)
Avia provided an overview and nice market map of major behavioral health players across the landscape. (Link)
Miscellaneous Maddenings
So the wife and I decided to go out to a local brewery in Dallas this weekend. We pulled up to the lot and walked up the steps to the door, where somebody was kind enough to be holding it open for us. Well, I looked up and saw…Jordan frickin Spieth holding the door. Naturally, my mind froze and I panicked at the incredibly random situation unfolding in front of me – an icon of the sport I love (from the college I attended) quite literally holding the door open 5 feet from me. "Hey Jordan" I said, and immediately regretted my entire life. Anyway, he was having a good time with family and friends over Mothers' Day weekend and I refused to bother him again. But little did Spieth know that he was in the presence of a healthcare creator. I'll cut him some slack. Jordan, if you're reading this, good luck at the PGA Championship this weekend.
I wanted to give a shout out to my colleague and friend Jared Dashevsky, who writes Hospitalogy's brother newsletter Healthcare Huddle, wrote a piece on the rise of retail health and…now has his MD!
Hospitalogy Top Reads
That's it for this week! Join 24,000+ executives and investors from leading healthcare organizations including Privia, Optum, and HCA Healthcare, health systems including Providence, Ascension, and Atrium, as well as leading digital health firms like Cityblock, Oak Street Health, and Turquoise Health by subscribing here!