Revisiting the LHC Group and Optum $6 Billion Deal
In April 2022, a few weeks before launching Hospitalogy, I had the privilege of guest posting on The Health Care Blog (big thanks to Matthew Holt & co). The essay was one of my first deep dives and broke down the announced Optum acquisition of LHC Group for $5.4B, or around $6.4B including debt.
Today I'm re-upping that essay and revisiting what has changed since the announcement. This updated essay will touch on similar issues but provides updates in light of recent vertical integration development, challenges facing the home health industry.
Also, if you're in the Austin area, I'm co-hosting a happy hour during SXSW on March 12 from 5-8pm alongside Next Ventures. We've received a significant amount of interest so far and want to ensure that we can accommodate as many individuals as possible. Go ahead and register for the event at the link here: Event Registration – and we'll be constantly monitoring capacity and granting access to folks for the event over time.
Join 18,000+ executives and investors from leading healthcare organizations including Privia, ApolloMed, and HCA Healthcare, health systems including Providence, Ascension, and Atrium, as well as leading digital health firms like Cityblock, Oak Street Health, and Turquoise Health by subscribing here!
LHC Group, Optum, and the evolving Home Health Landscape – Key Takeaways
Home health has morphed beyond a post-acute discharge destination into a vital source of primary care services and coordinated care. It also costs less.
For payors, home health is a key linchpin to keep patients out of higher cost facility-based care settings.
Payors and large home health players will continue to invest in both services rollups/M&A but also the infrastructure, tools, and support services to enable better home health. They'll be on the hunt for new tech-enabled solutions and will invest in infrastructure that enables better care delivery, higher risk adjustment, and enhanced patient satisfaction given that's the direction that MA is headed. One company that comes to mind is Porchlight Health (I had a great conversation with Steve Peterschmidt on Porchlight's value-prop – hope you're reading this Steve!)
Hospital-at-home and SNF-at-home is a new frontier, and while enrollment is slow, a number of new players are emerging. Patient outcomes in the program are good, and hospitals are investing and partnering with players like Medically Home, Contessa, Dispatch Health. HaH is here to stay, but it's a slow grind. Read Jared's great overview of HaH and how health tech is enabling the path forward. That being said, operators like Contessa are still losing money. Amedisys bought Contessa for $250M in mid 2021 – at a 3.9x forward 2022 revenue multiple at the time (sigh) – and Contessa is expected to hit around $50M in revenue in 2023 and around a $30M loss on EBITDA.
"Finally, Contessa, our innovative high-acuity care acquisition that closed in August of 2021, has not been immune to the impacts of hospital performance and the labor environment that has had its effect on health care services. Though we recognize we are behind our original plan, we are growing nicely and planfully. We have tremendous conviction for what Contessa does, where it will take us and the growth potential for its lines of business." – Paul Kusserow; Amedisys Q4 earnings call
"I think everybody loves the idea, and I think everybody is addicted to the idea. I think once we actually look at the complication of implementing the idea — again, I went to some big systems and really dug in to see what's going on. It's making sure the hospitalists, the folks running the ERs are all bought in reselling, reselling, reselling. I think that's it.. I also think that some of the hospitals are plugged up. And particularly, I think we're — there's some big benefits for us though. As their length of stay continues to go up, they're going to have to find ways to decant a lot of these patients and push them elsewhere. And that's what Contessa is very good at. And then we've been talking with them about saying, if you're really having length of stay issues, these DRGs are the ones you don't want to get locked up in the hospital system. So I think a lot of it's working through convincing them that the 111 DRGs that we do target that generally are not moneymakers for these hospitals are what's appropriate. So I feel good about that, particularly with the length of stay pressures on the financials for the hospitals. On the payer side, it's — on the payer side, they take a while to do risk-based programs. They want to look at the corridors, they want to look at our algorithms. I feel in the Tennessee deal that we just closed and announced, that took a year. And what we ended up was a really good deal with the folks, but it was very fair. But I think that going through that exercise was good. We're going through the exercise with other payers. Again, the value proposition of Contessa is so good from the perspective of the providers, the payers, the patients. You get a trifecta with that. And I think that ultimately is what's pushing Contessa through. But they — but our — very clear, we've heard — I've heard in all 14 partners I've gone to see, they want more. And so that's what we're figuring out now is how to scale, get there faster because I think we've been slow out of the gate." – Paul Kusserow; Amedisys Q4 earnings call
Optum has spread its massive tendrils throughout health systems (Sound Physicians, LHC Group, Landmark Health, SCA Health, Optum Insight, etc) and it's showing no signs of slowing down. Since the original post 10 months ago, Optum has added 10,000 more physicians. You guys know that this point is well covered here!
Investment Thesis for LHC Group
Read the original post of this article, which was published on 4/7/2022, on The Health Care Blog here.
I've updated certain sections of the original essay in this newsletter for quality of life changes, some updated deals, and current trends in healthcare.
So why home health, and why LHC Group for Optum? LHC Group is well-positioned on a few fronts in the fast-growing home health sector:
They're partnered with 435+ health systems, giving Optum even more access to hundreds of hospital joint ventures. LHC Group fits squarely into Optum's partnership strategy and provides another 30,000 clinicians to use for services like Optum Housecalls.
Home health and at-home care seems to be a more desirable care setting for Medicare beneficiaries. Comfort and patient experience is a huge factor and will hopefully continue to be paramount as MA continues to incentivize the move in this direction.
Of all post-acute care settings, home health is the most cost-effective. Home health costs way less than skilled nursing. Lower costs = lower medical loss ratio for United. By keeping patients out of SNFs and hospitals, these programs could pull additional volume from facility-based care delivery in the coming years. Hospitals also seem to be latching on to the hospital-at-home idea, which was extended thru 2024 and helps reduce observation days to make room for more lucrative procedures and lower length of stay.
From a demographics standpoint, home health benefits from an aging baby boomer population. Medicare will cover 79 million people by 2030 – a major secular trend for healthcare. Add to this that UnitedHealth Group is the largest Medicare Advantage (MA) player and is capturing 55% of all beneficiaries who choose MA.
PDGM and other headwinds for smaller agencies will run out of relief funding, resulting in consolidation. This consolidation will benefit larger home health platforms.
Here's a recent great quote from Amedisys CEO Paul Kusserow on the shifting tides of home health:
"There's a new paradigm driven by consumerism, demographics, advances in care delivery and cost of driving care into the home. Various elements of our world are evolving at different speeds. Regulators, some of our Medicare Advantage partners, are moving more slowly than we would like. Others are seeing where this is going and are actively innovating with us to meet us where the world is evolving towards.
Change creates opportunity. Accelerated change creates dynamic opportunity. We're in a time of rapid change, hence, my excitement and enthusiasm for how we have positioned ourselves and the opportunities that will come.
So what's different? First, there is a significant clinical labor shortage, especially in nursing. COVID did a number on field-based clinicians. Demand is outstripping supply more dramatically than ever. This is likely to continue. The winners in our world will be those companies that have the capacity to fulfill the demand.
Second, our mix of payers is changing. Medicare Advantage is growing faster than fee-for-service. Some of our Medicare Advantage partners are enlightened and are working with us to secure the labor capacity they will need. Others are trying to play the old game of low per visit rates and expecting in an inflationary environment to keep their rates artificially low. The industry just can't do it, neither can we.
When scarcity increases, demand goes up, and we are now in a new world where we must pick which visits we take or won't take. We're working through this now, giving all our partners an opportunity to understand what's going on in this emerging environment.
Helping drive this change is consolidation in our industry, scarcity of supply and increasingly long lengths of stays in hospitals, which are driving an already stretched business into further losses. Many of our payer partners are talking about increased post-acute spend much due to lack of availability in at-home care. We are the most efficient alternative of all the post-acute options, and we'll increase our share of post-acute spend as we move up the acuity spectrum.
Home health and Amedisys in particular are the most cost-efficient alternative of the post-acute options, and we will increase our share of post-acute spend as we move our way up the acuity spectrum. So increasingly, payers will be coming to home health and we believe disproportionately to Amedisys as we are arguably the only company taking true post-acute risks. So changing times, exciting times." – Paul Kusserow; Amedisys Q4 earnings call
Context on the Home Health Market.
Given increased patient desire to stay in the home for care, growing virtual care options from digital health players, the aging and growing Medicare population, the increasing negative stigma around nursing homes from COVID, and enhanced alternative payment models like the Hospital-at-Home (HaH) program, PACE, and other at-home care models*, home health has historically had a lot of momentum.* Payors will continue to incentivize investment to this low-cost setting.
McKinsey estimates that $265 BILLION worth of care services conducted in clinics will shift to the home by 2025. That's a four-fold increase over current home health care spending. Home health spending could double by 2030.
Home health is fragmented**.** LHC and other home health providers are benefiting from a fragmented market. Tuck-in acquisitions of smaller agencies are commonplace these days.
As of 2022, the top 5 providers account for about 21% of the total home health market share. This statistic indicates the significant opportunity for continued roll-up of the sector. Private equity has noticed this trend, too. Major PE players have entered both the home health and hospice markets to create platforms in the space. I should note that deal volume seems to be slowing considering recent headwinds from staffing shortages and labor issues.
Notable Deals in Home Health & Hospice
Home health has been one of the hottest M&A markets in healthcare services, both among large and small deals:
The Ensign Group spun off its home health operations into the Pennant Group in about a $1 billion deal in late 2019.
AccentCare merged with Seasons Hospice in November 2020.
Humana purchased Kindred at Home for around $5.7 billion in August 2021 (for the remaining 60%) along with Curo Health Services in July 2018 for $1.4 billion. More recently it sold a majority stake in Kindred's hospice business to CD&R.
Optum purchased Landmark Health for around $3.5 billion (more on that below) in February 2021.
Amedisys acquired Contessa Health – a major hospital-at-home provider – for $250 million in June 2021. When Amedisys made this purchase, they claimed it expanded their total addressable market from $44 billion to $73 billion. Do the math there, and that's how big of an opportunity hospital-at-home could be! More on that below.
HCA purchased 80% of Brookdale's home health assets in a $400 million deal in July 2021.
Encompass spun off its home health segment Enhabit in mid 2022.
CVS purchased Signify – a player adjacent to home health that specifically focuses on in-home evaluations – for $8B.
Finally, Walgreens has been acquisitive of late – it's invested in one of the largest home health players Brightspring alongside KKR and more recently bought CareCentrix in late 2022.
Not mentioned above is the plethora of home health, hospice, and home care deals taking place behind the scenes among private equity players, health systems, and publicly-traded operators alike.
It's a great time to sell a home health and hospice agency, but it's also a highly opportunistic time for larger operators to continue to roll up the space. Sector M&A activity is only going to accelerate from this point as platform players gobble up assets.
Background on LHC Group. Why Them?
LHC Group is one of the biggest home health agencies in the US. After its founding in 1994, LHC Group's business grew from a single home health agency into a $6.4 billion enterprise. The firm operates in 37 states through an impressive portfolio of assets across the spectrum that Optum can now take advantage of:
557 Home health agencies
170 Hospice locations
136 Home care locations
12 LTACHs
The most underrated asset…30,000 trained clinical employees. During a labor shortage, Optum is creating a pipeline to out-compete all other healthcare service providers on staffing and talent.
At the last check, LHC Group holds about 4-5% of national market share. That's good enough to be the third largest national home health provider behind Amedisys and Kindred. Since its inception, LHC has grown through tuck-in acquisitions, JV partnerships, and organic market share retention.
In 2017, LHC Group merged with fellow public home health operator Almost Family in a $2.4 billion deal at 14x EBITDA. For context, LHC sold to United this month for 2.4x forward revenue and around a 21.4x forward EBITDA. Yes, multiples in home health were FROTHY but justified at the time given the organic and M&A growth prospects. Home health & hospice still boast some of the highest EBITDA multiples in healthcare. Median EBITDA multiples for the space have since dropped from 15.6x at the beginning of 2022 to around 13.4x today.
In more recent memory, LHC purchased 47 locations from Brookdale as part of the planned divestitures included in the HCA-Brookdale $400 million deal. While LHC has succeeded in its M&A strategy, its ability to integrate and operate those assets has resulted in even more success.
LHC's Strategy and Secret Sauce.
As mentioned, LHC prioritizes partnerships with hospitals and health systems when approaching markets. These partnerships vastly increase LHC's chances of market viability and success.
By partnering with hospitals in local markets, LHC locks in large market referral sources from affiliated facilities and leverages that captive volume to out-compete other market players. The partnership doesn't reimbursement hurt rates, either – even though most home health recipients are on Medicare. As of March 2022, LHC held partnerships with 435 hospitals and health systems, receiving referrals for services from 3,600 hospitals across their geographical footprint. The strategy results in a solid bottom line. In 2021, LHC generated about $2.2 billion in revenue and $216 million in EBITDA.
Before the acquisition, LHC guided to $2.5 billion and $280 million in EBITDA (margin expansion to 11.2%). The firm is well-positioned and capitalized for growth. Given home health's capital-light model, LHC holds a solid balance sheet slated to overcome short-term labor and inflation challenges. On labor issues, LHC has noted that employee turnover is well below home health industry averages, which speaks volumes (literally) about its operational execution. More staff = more census = more cash in the door.
How Optum can unleash LHC Group.
So, we've established that home health, home care, hospice, and other post-acute services that LHC Group offers have a growing place in healthcare in the coming years. LHC Group was already doing a great job executing its growth-through-JVs strategy from a long-term perspective.
Optum and UHG can unlock value one step further by integrating LHC's post-acute services into Optum's continuum of care. That continuum includes an impressive portfolio of acquired post-acute assets. In the past few years, Optum has invested HEAVILY in its at-home care programs by launching a slew of new services and aggressively acquiring key players in the home and virtual care sector:
Launched Optum HouseCall (1.6 million visits in 2020);
Acquired Landmark Health in 2021 for around $3.5 billion, which is a direct contracting entity and is involved in hospital-at-home and other value-based programs;
Acquired naviHealth, a post-acute management services and care navigation platform, in an alleged $1 billion + deal;
Launched a virtual first plan in October 2021 called NavigateNOW;
Acquired AbleTo for just south of $500 million, a virtual therapy provider
Operates Sound Physicians and other solutions it can partner with hospitals and health systems to enhance its bottom line
Coupled with the above acquisitions, UnitedHealthcare has repeatedly echoed positive sentiment for Optum. Optum is, after all, United's primary vehicle for growth in the coming years.
More specifically, United has grown more and more bullish on the expansion of home health services. Just take a look at UHG's CEO Andrew Witty touching on Optum's bullish thesis for at-home care during United's Q4 2021 earnings call. We should have been paying attention!
"I've been super impressed with the development, not just in the clinic, but also through the at-home programs, where we're able to continue to make sure folks are looked after properly. And actually, particularly as we've gone through the pandemic environment, people's preference to have care delivered in the home has become clearer and clearer." – Andrew Witty, UHG CEO, Q4 Earnings Call
When interviewed for deal comments after the LHC Group acquisition announcement, Wyatt Decker, the CEO of Optum, doubled down on Andrew Witty's comments, touting the demand for at-home care.
"This trend has really only just begun, of how much care can truly be delivered in the home…We can give care in the home, which is a lower-cost setting…than nursing homes or more advanced care facilities."
Through Optum, UHG can keep patients out of costly facility-based care settings like SNFs, IRFs, and even hospitals. This care coordination allows UHG to better manage medical costs long-term. UnitedHealthcare can and will continue to offer competitive insurance plans and services by leveraging Optum's 70k physicians and 2k sites coupled with these new post-acute and new virtual care assets.
Hospital at Home and SCP Health
In addition to the above assets at Optum's disposal for post-acute strategy, LHC also announced a huge partnership with SCP Health in mid-2021 to vastly increase SNF@ Home and HaH programs nationwide. The partnership combined LHC's home health workforce with SCP's 7,500 clinicians to create a widespread Advanced Care at Home program. Optum can leverage LHC's existing hospital partners to scale hospital-at-home and skilled-nursing-at-home programs – value-based care programs that are just beginning to ripen. If effective, the giant could disrupt these traditionally facility-based services significantly. Take a look at LHC's existing HaH and SaH model.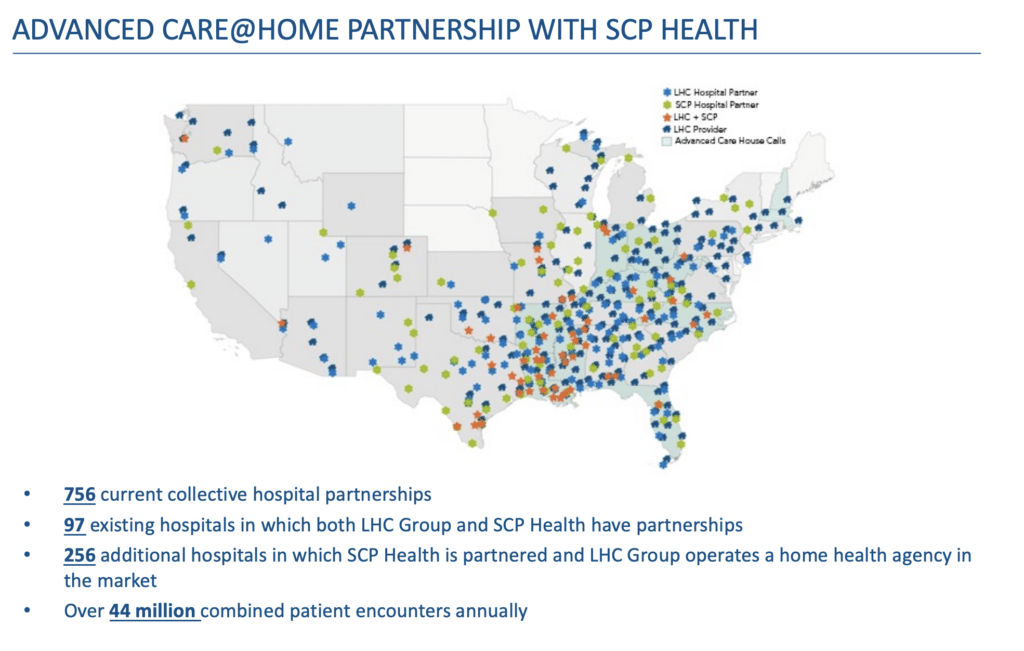 Source: LHC Investor Presentation, Advanced Care @ Home Initiatives
If LHC can deploy the above footprint with SCP's 7,500 clinicians, just think how LHC Group and Optum can scale Advanced Care @ Home with 70,000+ physicians and other clinicians. Strategies like these are how Optum will realize incredible deal synergy from this acquisition – if executed successfully. This is just the beginning of home-based care initiatives. Other emerging home care segments include home infusions, home-based dialysis, and primary home care – all of which are future avenues of growth for Optum and a key part of both an integrated care delivery strategy and financial profit from moving money around in vertical integration – a topic I just went deep on with CVS-Oak Street Health.
Larger Players are Poised to win in Home Health
The PHE created a lot of positive externalities for at-home care. Although the PHE is expiring, the PHE and associated relief dollars from the CARES Act kept struggling agencies afloat during the pandemic when they otherwise would have gone out of business or sold. CARES Act relief payments, accelerated payments from Medicare, and paycheck protection program loans helped bolster small agency balance sheets during the volume dry spell.
In addition to PHE expiry, the Patient-Driven Groupings Model, AKA, PDGM, was supposed to shake up the home health industry during its implementation in 2020, but these effects were delayed given relief dollars. Here's what PDGM changed and why smaller operators may struggle post-'Rona:
PDGM created a 30 day payment period and based those payments on how patients were classified into 432 distinct payment groups. These payment groups are further broken down into 5 dimensions of care, including referral source, period timing, clinical conditions, functional status, and comorbidities.
What YOU need to know about PDGM is that the payments are no longer based on volumes, or the number of in-person therapy visits provided. Previously, the prospective payment system would INCREASE payments as the number of therapy visits for that patient increased. But no longer.
Along with the decoupling from visit volumes, home health agencies can no longer request advanced payments (RAP) from Medicare (AKA, "pay us upfront and we'll figure out the differences in payment later"). Before CMS phased this out, providers could receive 50-60% of total payments upfront by submitting an RAP. RAPs were replaced by Notices of Admissions (NOAs) starting in 2022.
So now, instead of receiving that large upfront payment, home health agencies get nothing, which hamstrings cash flow quite a bit. As we say in business school, Cash is King.
As a result of current inflation headwinds, labor shortages, and cash flow changes, smaller home health agencies will struggle post-'Rona, opening a door of future M&A for players including Amedisys, LHC Group, AccentCare, Kindred, and more.
This was the sentiment from large operators pre-2020, echoing my thoughts above:
"Combined with the two 30-day payment periods under PDGM, the elimination of the RAP should lead to more consolidation in the industry than we've experienced in the last 2 decades. It will hit cash flows hard for the smaller agencies; but for the larger agencies, such as LHC, we would expect minimal impact." Keith Myers, Co-Founder, Chairman & CEO, LHC Group Q3 2019 Earnings Call
"We believe PDGM has the potential to accelerate an industry consolidation unlike any we've seen in recent memory. We will be ready" Keith Myers, Co-Founder, Chairman & CEO, LHC Group Q3 2019 Earnings Call
Conclusion: Investment in home health will continue among strategics
Private equity players will likely look to exit home health deals. In Q4, Pitchbook noted that home health deal making grinded to a halt given widespread economic concerns and labor issues – which is very poignant in home health given that labor is a much higher proportion of cost structure. So I'm speculating we'll see more strategic acquisitions by players mentioned above and perhaps even some regional or platform deals in 2023 and beyond.
Nonetheless, Optum continues to be a force throughout healthcare, and the Great Payor Landgrab continues throughout healthcare services.
If you made it here, thanks for reading!
Join 18,000+ executives and investors from leading healthcare organizations including Privia, ApolloMed, and HCA Healthcare, health systems including Providence, Ascension, and Atrium, as well as leading digital health firms like Cityblock, Oak Street Health, and Turquoise Health by subscribing here!