2022 Year in Review: 13 trends that shaped the Healthcare Landscape
Welcome to the Hospitalogy 2022 Year in Review, where we cover every major healthcare news story in 2022!
It's a good primer to get started if you're looking to get caught up on all of the key news and trends in healthcare. Some of these stories might look familiar to long-time subscribers since they are repurposed and published into this report!
If you want to support Hospitalogy, please share this and subscribe! This post legit took me forever (one might even say a whole year) to put together.
I'm also in the process of finishing up my first paid product, a research report called The Hospitalogy state of Hospitals (VERY on brand right?) which will soon ™ launch. Be on the lookout for that!
The Healthcare Business Year in Review
Deals that shaped healthcare in 2022
Physician employment approaches max capacity
Year of the cross-market hospital mega-merger
Digital health's valuation washout
CVS' loud, eventful year
Amazon ramps up in healthcare with One Medical, Amazon Clinic launch
The Medicare Advantage battle picks up as Insurtechs bow out
Optum hits 70,000 physicians and UnitedHealth Group's unrelenting growth, M&A engine
Inflation Reduction Act: the biggest reform in 10 years?
The year and upcoming decade of vertical alignment
Healthcare workforce dynamics entering 2023
Direct contracting results set the stage for ACO REACH
Other notable moves in healthcare
Deals that shaped healthcare: spin-off's, take-private deals, and strategic acquisitions
VillageMD-Walgreens-Elevance-Summit Health: $8.9B
After swirling rumors of acquisition talks between the two, VillageMD announced that it's buying Summit Health for $8.9B on November 7, 2022. Combined, VillageMD NewCo will operate 4,100 providers (2,150 primary care physicians), 680 locations, 7 million patients, and 125,000 full-risk Medicare Advantage lives. That's a pretty big deal (pun absolutely intended) as NewCo vaults itself into becoming one of the largest primary care providers in the country and geographically dense (an important feature in value-based care) in the Northeast.
CVS-Signify Health: $8B
News dropped on Labor Day that CVS successfully won the bid for Signify Health and is acquiring SGFY for $30.50 per share – a valuation right around $8 billion.
Through Signify, CVS gets immediate access to 10,000-plus contracted clinicians. These contracted clinicians deliver comprehensive health screenings (Health Risk Assessments, 2.5M in-home visits) which help CVS (Aetna's) risk scoring for its members (higher payouts). CVS also gets Signify's Caravan ACO business (700K+ Medicare beneficiaries, acquired in Q1 2022 for $250M). Signify will continue to function as an independent, payor-agnostic platform within the broader CVS umbrella similar to Optum.
Expect to see CVS continue to build out its services base. It's still on the hunt for primary care acquisitions!
Optum-LHC Group: $5.4B
On March 29, 2022 UnitedHealthcare's Optum announced its acquisition of LHC Group for $170/share. The transaction valued LHC at about $6.4 billion including debt.
Last year, LHC generated about $2.2 billion in revenue and $216 million in EBITDA (10%ish margin). Before the acquisition, LHC guided to $2.5 billion and $280 million in EBITDA (margin expansion to 11.2%).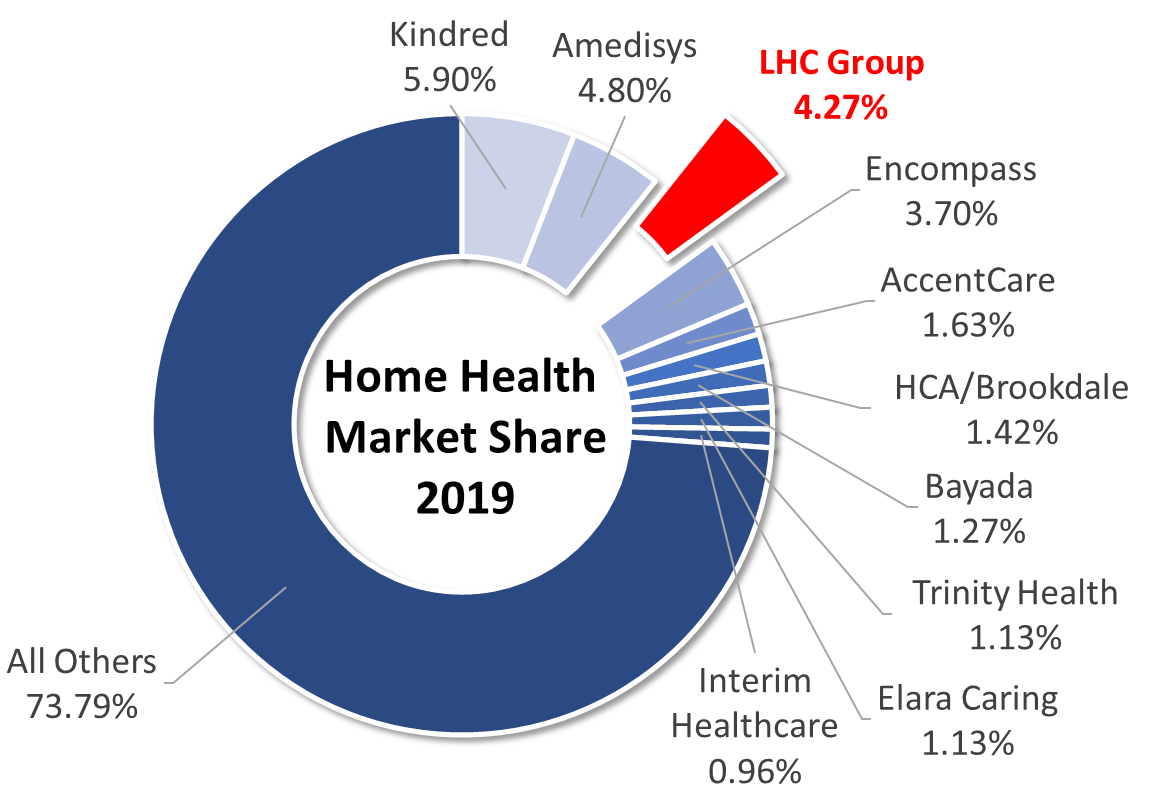 LHC Group is an important acquisition for Optum. Payors are continuing to morph into 'payvidors' and UHG / Optum has a huge competitive advantage given its 60k aligned physician base. Acquiring LHC Group accelerates this payvidor trend but also allows UHG to catch up to Humana, who owns Kindred, in the post-acute sphere.
Amazon-One Medical: $3.9B
Announced on July 21, 2022, Amazon is acquiring One Medical, a tech-enabled primary care platform, for $18 / share (expected to close in Q4). The all-cash offer amounted to a 77% premium to the previous day's closing price of just over $10 at the time of announcement.
With the transaction, Amazon gets access to 8,000 clinicians, a 180+ clinic footprint, custom-built EMR, 8,500 employer relationships, 16+ health system partnerships, and a tap into the growing senior market with Iora Health.
Iora, One Medical's value-based care segment focused on the Medicare Advantage and Direct Contracting beneficiaries, is a wedge into the fast growing senior care market as Boomers age into Medicare and Medicare Advantage.
CD&R-Humana-Kindred at Home:
On April 21, Humana announced that it's selling 60% of Kindred's hospice business to Clayton Dubilier & Rice at an implied $3.4 billion enterprise value. According to the release, that's 12x trailing normalized EBITDA. Humana will receive $2.8 billion in cash from the proceeds and will retain a minority stake in the red-hot hospice sector.
For those following along at home (I know I am), Kindred Healthcare has been spliced every-which-way since 2017. Here's a quick timeline:
December 2017: Humana, TPG, and Welsh, Carson, Anderson & Stowe purchased Kindred at a $4.1 billion enterprise value. Humana buys 40% of Kindred at Home with a call option to buy the remaining 60% later on. TPG / WCAS get their hands on Kindred's facilities business (LTACH/IRF, etc).
April 2021: Humana buys remaining 60% stake of Kindred at Home for $5.7 billion. In case you missed that, Humana bought 60% of just ONE of Kindred's segments for 40% more than the entire business was publicly valued at in 2017!
June 2021: Enter LifePoint Health. LifePoint, which was taken private by Apollo for $5.6 billion, acquired Kindred's facilities business – 62 LTACHs, 25 IRFs, 100 acute rehab facilities, & more. The for-profit private hospital operator also agreed to invest $1.5 billion in the communities it serves over the following 3 years.
October 2021: LifePoint spins off Kindred's 61 LTACHs and 18 of LifePoint's community hospitals into ScionHealth, likely the least profitable segment of the business.
Finally, April 21: Humana sells 60% of Kindred's hospice segment valued at $3.4 billion
Although I don't have any hard data on Kindred's facility-based business and what it sold for, the enterprise values of JUST Kindred's home health and hospice segments purchased this year implies a $13 billion standalone valuation for those segments ($3.4b for hospice and $9.5b for home health). Do the math and that's a 215+% premium on what Kindred was trading at in 2017 – and that's not even including its facilities business.
Convey Health Solutions: $1.1B
TPG Capital announced its intention to take Convey Health Solutions private at $10.50 per share. The value amounted to $1.1 billion, a 143% premium to Convey's last close, and about a 100% premium to Convey's VWAP, or volume-weighted average price per share as of a recent date to the transaction announcement. TPG previously invested in Convey, took them public at $14 per share and took them private again at $10.50.
SOC Telemed: $300M
After going public via SPAC at about a $720 valuation 15 months ago, SOC Telemed was taken private by Patient Square Capital.
Details: The healthcare investment firm announced its intention to purchase SOC Telemed at a 366% premium to its share price on February 3rd, or about a $300 million enterprise value at $3.00/share. For all you smart folks out there, that's a 60% decay in value in one year.
SOC's stock price had tumbled from $8.33/share one year ago to $0.64/share prior to the announcement and is now trading just under the take-private price. It makes sense that the board unanimously jumped on the opportunity to go private in the market's current state.
SOC Telemed bought Access Physicians, a specialty telemedicine provider, for $194 million or 2/3rds of its take private price back in April 2021.
Optum-Change Healthcare: $13B
Although announced in 2021, Optum's acquisition of Change Healthcare didn't get approved until late September 2022 when a federal judge denied the DOJ's antitrust case.
Optum will integrate Change Healthcare into its OptumInsight (analytics, rev cycle, & data platform) arm, which did $12.2B in revenue in 2021 and ~$12.9B in the last twelve months ended June 30, 2022. Change Healthcare generated around $3.5B in revenue in its FYE March 2022 (seen above) but part of that will get divested as the judge ordered UHG to sell Change's ClaimsXten biz to TPG Capital for around $2.2B.
Steward-CareMax
In one of the more significant value-based deals announced in 2022, CareMax announced the acquisition of Steward Health Care's Medicare Advantage business, comprised of 171,000 lives across 8 states. Announced June 1, 2022, the deal creates one of the largest MA-focused value-based platforms in the U.S. and closed sometime in the back half of 2022.
Deal structure: CareMax acquires Steward's MA service line (Steward VBC) for $135 million in cash and stock. The value-based player will now serve as Steward's exclusive management service organization (MSO) for Steward VBC.
Steward Gets: $25 million in cash, 21% CMAX ownership immediately, and up to 41% ownership in CareMax equity (if earn-outs are achieved). Steward also offloads $72 million in VBC A/R offloaded to CareMax, a very non-significant working capital value that CareMax is now funding.
CareMax Gets: Access to 50,000 MA lives, 112,000 MSSP lives, and 9,000 direct contracting lives, along with the opportunity to convert 830k+ additional members to risk, along with some of the best ranking and performing ACOs nationally. CareMax identified the transaction as a $1.6B to $1.7B revenue and $100M to $110M EBITDA opportunity (implied 6-7% margin) by 2025. The firm's total value-based footprint would jump to 2,000 providers across 200,000 senior lives in 30 markets.
Enhabit Home Health Spins off from Encompass
After announcing spin-off plans in January, Encompass' home health arm, Enhabit Home Health & Hospice, successfully debuted on the public markets under the ticker 'EHAB.'
About Enhabit: The home health and hospice operator holds a nationwide footprint and generated just north of $1.1B in revenue as of CY 2021. Enhabit is the 4th largest home health player and the 12th largest hospice player sitting alongside the likes of other national operators like Amedisys, LHC Group, AccentCare, and Kindred. The operator boasts 351 HH&H locations across 34 states with 10k employees.
American Oncology Network announces SPAC plans: $500M
Defying the odds of the times, announced October 6, 2022, oncology practice management platform American Oncology Network (AON) is combining with the Digital Transformation Opportunities Corp SPAC at a $500 million enterprise value. It'll join its peer, The Oncology Institute, as one of two oncology-focused physician practice management organizations in the public markets at a time when basically nobody is going public.
About AON: the platform has a 24-practice, 71-clinic, 107-physician footprint across 18 states since starting in 2018. Financially speaking, AON is operating at a $1.16B revenue run-rate for 2022 with slightly above breakeven adjusted EBITDA. The firm seems to deploy the roll-up playbook similar to PE-backed or other practice management platforms in the sense that its growth comes through affiliating with oncologists with the add-on play of transitioning these physicians and practices to value-based care arrangements given its participation in the Oncology Care Model and I imagine the coming Enhanced Oncology model similar to OneOncology.
Oracle-Cerner: $28.3B
Oracle announced the acquisition of Cerner for $95 / share or $28.3 billion in an all-cash deal. With the acquisition, Oracle aims to (ambitiously) develop a national EHR database, integrate with Oracle's cloud products, enable life sciences and clinical trials research, and expand data analytics and clinical workflows for providers.
Oracle-Cerner has its work cut out for it, as its integration with the Veterans Affairs has soured while Epic is gaining market share among hospitals and providers alike.
Bain-athenahealth: $17B and go-public rumors swirl
Just around a year after selling, athenahealth, the EHR vendor, is looking to go public once again. athenahealth has changed hands often. Back in 2007, athenahealth debuted on the public markets. In 2018, PE firm Veritas Capital and hedge fund Elliott Management acquired athenahealth for $135/share at a $5.7B valuation. Bain Capital and others then bought athenahealth in November 2021 for $17B.
Over the timeframe of private life, athenahealth has focused on the outpatient business, a growing section of healthcare, and strategically pivoted away from hospital EHRs. Now athenahealth powers newer outpatient players and at the time of sale to Bain, partnered with more than 140,000 ambulatory surgery centers across the U.S. The EHR vendor has added 2,000 physician practices over the past year and the runway is likely there for continued growth in the outpatient environment.
Chilmark Research provided a nice concise research note on athenahealth's 2022 analyst day here
Other notable deals across healthcare
Physician employment approaches max capacity
Employment of physicians has increased 19% over the last 3 years, accelerated by the pandemic. Almost 75% of all physicians are now employed by a hospital or corporate interest, and over 83,000 physicians left their independent practices since 2020 to join a corporate or hospital entity. Current market dynamics are creating bidding wars for physician practices of all sizes.
Operating challenges related to a tough labor environment, increased administrative complexity, and reimbursement issues create an attractive environment for physicians to sell. These trends will continue to play out until we reach 'peak' employment which sets the stage for a perfect storm of physician practice M&A in 2023 and beyond.
Along with PE, large managed care organizations (e.g., UnitedHealth's Optum) and new-age MSO / enablement 'value-based' platforms (agilon, Privia, ApolloMed, Aledade) have joined the physician market as well, offering an alternative to PE-backed or traditional hospital employment.
Where do we go from here? You have to think that the remaining physician pool that wants to get bought out is shrinking. What happens when the honey well of cheap arbitrage of inorganic acquisition growth driving up EBITDA runs dry?
Year of the cross-market hospital mega-merger and canceled hospital deals
Health system M&A strategy is shifting from horizontal (market power play) to vertical integration, thinking about upstream and downstream revenue, taking on risk, and becoming more of a fully integrated institution. This shift in M&A should be at the forefront of every hospital executive's mind in the current macro and antitrust environment.
Intermountain-SCL: $14B
Intermountain and SCL Health finalized their merger on April 6, 2022, creating a $14 billion system in the Midwest / Mountain States region after announcing the merger late last year.
The combined system, to-be called Intermountain, will have an impressive footprint:
33 hospitals
~400 clinics
58,000 employees
$14 billion in revenue
This merger comes two years after Intermountain benefited from buying the HealthCare Partners Nevada operation as a part of the planned divestitures from the larger Optum – DaVita Medical Group $4.3 billion deal. Apart from physicians, legacy Intermountain's footprint included 23 hospitals in 7 states, and around 1 million members on its insurance plan. On the SCL side, the health system generated $3.0 billion in revenue across 10 hospitals and ancillary services in 3 states.
Advocate Aurora-Atrium: $27B
On May 11, 2022, Advocate Aurora Health announced that it is merging with Atrium Health to create a $27 billion health system. It'll operate under a slightly new name: Advocate Health.
The new system's combined revenues puts it on par with that of Ascension & Providence at about $27 billion – good enough for the 6th largest health system in the U.S.
Advocate's new footprint will include:
67 hospitals
1,000 sites of care
7,600 physicians
150k employees
5.5 million patients
2.2 million lives through 15 ACOs and 60 value-based contracts (whatever that means)
$5 million in annual community benefit
Operations across Illinois, Wisconsin, North Carolina, South Carolina, Georgia, and Alabama
The deal is pending regulatory review, in which the FTC is planning to check on insurer overlap in various markets. On September 14, the Illinois Health Facilities & Services Review Board delayed the Advocate-Atrium merger, citing letters of opposition related to antitrust concern. The board will meet again on December 13, so we'll see how things go.
Sanford-Fairview Health Services: $14B
Announced in November 2022, Sanford Health is planning to merge with Minnesota-based Fairview Health Services in what would create a $14B, 58-hospital merger. Of course, beyond this Sanford-Fairview news brings with it the typical questions:
Will this deal actually cross the finish line? Sanford tried to merge with Fairview back in 2013, UnityPoint in 2019, and then Intermountain in 2020, all to no avail.
Assuming the deal goes through, how will prices change in the affected areas? According to ModernHealthcare, "Sanford Health's commercial prices in South Dakota were 191% of Medicare in 2020, below the state average of 218%." while Fairview's Minnesota operations were "263% of Medicare rates for the same services, below the state average of 297%, in 2020." So…both systems hold reimbursement below state average according to the RAND study.
Health System Joint Operating Companies Disband
Ascension and AdventHealth completed their JOA breakup in Chicago, formally disbanding Amita Health. AdventHealth will continue to operate the four legacy Amita Health hospitals under its brand.
To add to the JOC unraveling trend, Trinity Health and CommonSpirit Health, two of the five largest health systems in the US, announced plans to unravel their joint operating company (JOC) in Iowa – MercyOne. As part of the deal, Trinity will acquire all of MercyOne's assets throughout the state of Iowa.
The MercyOne operation is impressive and includes:
16 medical centers seeing 3.3 million patients
420 care sites
20,000 employees
2,000 doctors
And a host of other clinical assets to consolidate into Trinity's larger 80+ hospital operation.
Trinity plans to finalize the transaction in summer of this year. The deal will expand Trinity's presence individually into the Iowa market to compete with the likes of UnityPoint, which has a large presence in the state and a formidable player there.
Meanwhile, CommonSpirit gets an infusion of cash to bolster their balance sheet for other strategic initiatives.
Antitrust Scrutiny picks up
The hospital market is growing more and more concentrated. Hospital consolidation has developed an insane amount of notoriety for increasing prices. As a result, proposed mergers are increasingly failing state antitrust review due to hospital market concentration concerns.
This trend isn't just limited to hospitals – Optum and others are struggling with the FTC as it ramps up scrutiny on healthcare consolidation, including Optum's recent bids for Change Healthcare as well as LHC Group.
For health systems specifically, there have been a number of health system mergers canceled or struck down in very recent memory for a number of reasons:
Any hospital acquisition or merger that might result in increased market concentration over a certain threshold is very likely to be blocked in this transaction environment.
Digital health's valuation washout
The current macroeconomic environment created headwinds for healthcare organizations nationwide. Inflationary pressures have impacted jobs (payor mix) and bad debt, while higher cost of borrowing has risen for already debt-saddled private equity backed players and highly levered health systems. While outpatient job growth has remained steady, venture-backed firms with frothy valuations have been forced to conduct en masse layoffs. Adding to this, rising rates and a newfound focus on profitability in 2022 led to a significant valuation washout for new healthcare public market entrants, with most underperforming the S&P 500.
In 2023, I wouldn't be unfortunately surprised to see continued layoffs in digital health, bankruptcies, and restructurings from provider organizations as valuations compress further, capital tightens up. 2023 may shape up to be the year of consolidation (but really, when ISN'T it the year of consolidation in healthcare?).
CVS' loud, eventful year
CVS has been one of the more active players in healthcare and retail health since its acquisition of Aetna in late 2017.
Since then, CVS went on a grand mission to morph into a vertical integrated delivery system. In the beginning, CVS wanted to expand its healthcare offerings in stores, revealing a huge project to convert store space into HealthHUBs and opening 1,500 locations in the short term.
For other projects, CVS has been making major moves on a number of other healthcare fronts in an effort to own the entire spectrum of care delivery. It's pushing to expand the role of the pharmacist as a major touchpoint for patient-provider interaction.
Further, CVS has been very vocal about wanting to acquire primary care assets, noting that it pretty much has to pursue a 'buy' strategy here. We saw this play out with CVS wanting to buy One Medical and its interest in acquiring Cano, neither of which materialized. CVS seems to have shot itself in the foot by being so vocal about its services build-out strategy in 2022. It led to a lot of speculation in primary care and high valuation premiums among popular names.
Although CVS acquired Signify Health in September, there's still a huge void at CVS for primary care. CVS will likely pivot strategy in 2023 given its recent hiring of Dr. Amar Desai – former Optum – to lead its newly formed healthcare delivery organization. Expect to see partnerships manifest similar in structure to Humana's existing CenterWell joint venture with Welsh Carson to build a ton of senior MA clinics across the U.S. While M&A is not off the table, CVS has to start putting capital to work in the healthcare delivery segment to catch up to Optum while other players (Amazon, Walgreens) encroach on the territory with 2022 acquisitions of their own.
CVS also dealt with some bad business news in the back half of the year:
Aetna's MA plan's star ratings declined. The drop was material enough for CVS to issue an 8-k related to the downgrade as the plan won't earn quality payouts in 2024. It's a big hit to profitability – likely around 4% to 5% of earnings in 2024. CVS stock dropped around 7% at the time of announcement.
More recently, CVS' PBM lost its contract with Centene covering $30B+ of drug spend to Cigna's Express Scripts.
Amazon ramps up in healthcare with One Medical, Amazon Clinic launch
Amazon has increased its activity in healthcare over the course of 2022:
February: Amazon rolls out Amazon Care nationwide, but ultimately gets shut down after its purchase of One Medical.
July: Amazon partners with the Fred Hutchison Cancer Research Center on phase 1 trials for certain cancer vaccines.
July: Amazon acquires One Medical for $3.9B in an all-cash deal.
August: Amazon rumored to be involved in bidding process for Signify, ultimately bought by CVS
November: Amazon launches Ro, Hims competitor Amazon Clinic to target direct-to-consumer, low-acuity, commonly prescribed conditions.
I expect Amazon Clinic to be successful. Amazon's overall distribution and low customer acquisition costs will fuel Clinic's expansion, which will attract more providers to the platform. The synergies are pretty amazing here. Beyond Amazon Pharmacy, Amazon now has even more touchpoints with consumers using Clinic and can leverage that to upsell health and wellness products or offer HSA-eligible items.
Beyond the DTC focus, Amazon holds another opportunity for market expansion. Health systems are always looking for ways to capture downstream referrals to specialized services (traditionally they've done so through urgent care, freestanding EDs, and physician practices of course). Now, systems seem to be focusing more and more on enhancing their 'digital front doors' as is Optum, other payors, and everyone in between.
Anyway, we've seen the start of this 'hospital consumerization' trend given recent partnership announcements from Hims. On November 10, Hims announced a partnership with ChristianaCare, a 4-state health system in / around the Delaware area and has also announced partnerships with Carbon (not a health system but notable) and Ochsner (thanks Kevin O'leary for this callout) in the past, giving Hims a 10-state presence in these types of deals.
As part of the deal, ChristianaCare gets access to Hims' membership base for any higher acuity needs, giving Hims users a better experience across a greater spectrum of health conditions. Really this seems to be a much better deal for the health system since they get downstream referrals and revenue for …free? Maybe a small service agreement for licensing? I'd love to hear more thoughts on how folks thinks this benefits Hims long-term.
I wouldn't be surprised to see Amazon pursue a similar strategy with Clinic. After Amazon's deal with One Medical closes (expected Q4 but dumb FTC delays possible), Amazon will hold a pretty nice foothold of partnerships with key health systems across the country.
Through offerings like One Medical and now Amazon Clinic, launched Nov. 15th, Amazon is focusing most of its healthcare efforts on what it knows best: the consumer. It's a healthcare play that meshes well with the core strengths of the retail giant and sets itself up for more activity in 2023, perhaps in the Medicare Advantage space.
The Medicare Advantage battle picks up as Insurtechs bow out
As widely known in the industry, Medicare is experiencing strong secular growth. Medicare Advantage (MA) stands to benefit the most from this demographic trend as 10,000 new beneficiaries enter Medicare per day. This so-called MA penetration will continue to escalate as those aging into Medicare increasingly opt for MA plans (familiar to commercial plans) over traditional Medicare. Payors stand to benefit the most from this trend.
After snatching up Medicare Advantage (MA) members earlier this year and making a market share play against incumbent insurers like Cigna and Humana, Bright Health and Oscar are now doing a complete 180 and exiting almost all MA markets.
Bright is leaving its Florida MA market behind, once a major bullish thesis for the insurtech and its last operational holdout outside of Texas and California. For those following along at home, this announcement is the third contraction of its business model. Hopefully the realigned focus will help Bright succeed with more narrow, services-focused growth goals, but they have major questions to answer from investors.
Oscar is almost entirely exiting the MA market to focus on its ACA – individual exchange markets. It's a big move toward trynna get to operating profitability by 2024. Ambitious, but possible.
Meanwhile, although Clover is expanding its MA reach, the meme-sure-tech company is scaling back its ACO REACH expansion efforts – again, once thought of as a big bull thesis for the company – after dismal DCE results which I covered here.
Finally, oddly enough, Texas regulators asked Friday Health Plans to exit the state's ACA market, citing operational challenges and rising costs (shout out inflation), which could cause the private insurtech to cut a rumored 80% of its workforce for 2023. Friday intends to re-enter Texas, its largest ACA market by far, in 2024. Yikes.
On the other hand, incumbent insurers are having no issues in the MA space, touting the program as major avenues of growth for their organizations.
I've noted this before, but here are the announced expansions for 2023:
Long story short, it seems as if the insurtechs are grasping at straws in 2022 and entering 2023. I covered insurtech challenges pretty extensively here and they have a long way to go in improving the patient and health insurance experience while not burning inordinate amounts of capital.
Walmart and UnitedHealth team up on MA plans
Walmart announced a deal with fellow healthcare overlord UnitedHealth to collaborate on Medicare Advantage plans. Over the next 10 years, the two incumbent giants will target the fast-growing Medicare Advantage population on a number of healthcare initiatives.
From a bigger picture perspective, it's extremely prudent for Walmart to continue to creep into the fast-growing MA space. In 2020, the retail giant partnered with Clover to launch MA plans in Georgia. On the other hand, its problems with its Walmart Health strategy and slowing rollout are well-documented.
Optum is the best positioned partner to enable the transition to value-based care and help Walmart continue to push its healthcare strategy forward. Walmart is also known for having an expansive database of high-quality providers and recently integrated a machine learning tool, Health at Scale, to personalize healthcare provider directory recommendations to Walmart Health plans. Of most healthcare providers, Walmart has a distinct opportunity to fill in the gaps in rural healthcare. My burning question is whether this is just a loosey-goosey partnership or a collaboration with real teeth for the future.
I also have to wonder if the increased push for social determinants of health and Medicare Advantage supplemental payments for things like groceries is responsible for retail players' continued pushes into healthcare (Amazon + Iora, Walgreens + VillageMD & CareCentrix, now Walmart + Optum). It's truly a no-brainer and incredibly synergistic to your business model if you can use an MA plan to push business to the rest of your company via government subsidies/payment.
Walmart's push into MA health plans is somewhat damning for cash pay services as well – Initially, I thought Walmart Health was going to aggressively undercut insurers by offering competitive low prices and DTC cash pay, but it seems as if insurance wins again.
Medicare Advantage plans get major downgrades
Every year, CMS releases star ratings (AKA the Google Reviews of health insurance plans for seniors). The star ratings are based on a variety of inputs that are supposed to reflect the experiences of the consumers that had those plans in the past. It's a big deal for plans to get a 4-star or higher plan, since CMS issues a 5% quality bonus for plans above that threshold. Given how much revenue is at stake in MA coverage, a 5% drop is a BFD. 2023 star ratings will affect 2024 revenue.
For 2023, a significant number of plans received downgrades for two main reasons.
One – CMS removed 'guardrails' in effect from the public health emergency that prevented major national performance downgrades caused by pandemic-era conditions. Because of this temporary relief, star ratings rose to an all-time high of 4.37 in 2022. That dropped to 4.15
Two – CMS increased the weighting of patient experience, complaint, and access measures for 2023 (CAHPS). CVS in particular griped about weighting CAHPS so heavily, claiming in its 8-k filing that just 976 members, or less than 1/10 of 1% in its largest plan, were surveyed, leading to the hit to revenue in '24.
Based on a ModernHealthcare analysis, the biggest losers include Aetna (CVS) and Centene.
CVS had to issue an 8-k related to its Aetna plan downgrades. While 87% of CVS MA plans were 4-stars or higher in 2021, just 21% will be above 4-stars in 2023 including its biggest plan, Aetna National PPO (1.9M members), affecting revenue payouts in 2024. It's a big hit to profitability – likely around 4% to 5% of earnings in 2024. CVS stock dropped around 7% at the time of announcement.
Centene lost the most stars among major insurers according to the MH analysis. 1.8% of Centene's MA plans received a 4-star or higher rating, down from 32.6% (!!!) in 2022. Centene dropped about 5% on the news.
Among the winners included Kaiser, SCAN Health in California, and Humana.
Optum hits 70,000 physicians and UnitedHealth Group's unrelenting growth, M&A engine
Check out my full UNH investor day analysis here.
UnitedHealth Group's five strategic pillars for 2023
Continue transition to value-based care: As of the latest tally, UHG employs or aligns with 70,000 (!!) physicians, around 7% of the entire U.S. physician workforce. A huge avenue of growth for Optum and UHG as a whole exists in transitioning these physicians into value-based care arrangements and integrating care delivery between at-home care, virtual offerings, and behavioral health. In the third quarter, UHG's revenue per consumer in Optum grew 31%, a chunk of which stemmed from the transition to VBC arrangements. Just under 15% of OptumCare's 20 million members are in fully capitated contracts, so a long runway left there.
Optimize health benefits: Self explanatory, but UHG wants to continue to deliver solid benefits packages to its 51 million members in commercial and government programs
Invest and expand health tech portfolio: In contrast to a16z's recent piece on the subject, UHG ironically defines itself as a "payer, provider, and technology company" and will continue to leverage its massive scale to invest in strategic priorities for the company. UHG called out specific investments like improving clinical workflows or simplifying administrative tasks, including tools to improve claims accuracy.
Deliver more seamless payment processes and simplify the patient's financial experience: Optum has a financial services & tech segment focused on improving healthcare payments infrastructure to enable faster payments for providers with "less administrative burden." Specifically, UHG wants to integrate Change Healthcare into Optum's revenue cycle management in order to provide real-time digital cost estimates for services as well as determine eligibility and automate the prior auth process. I'll believe it when I see it!
Improve pharmacy care services: UHG mentions wanting to strengthen its direct-to-consumer (DTC) pharmacy offerings, 'capture a greater share' of the life sciences market, and further integrate pharmacy ops into the rest of its Optum offerings.
Long-term growth expectations: All of this being said, UHG expects long-term earnings per share growth between 13% – 16%.
The vision that UHG laid out with Optum over the past decade-plus (launching in 2011) may be the best strategic move in healthcare of all time. As a result of the shrewd move, UHG and Optum are a step ahead of every other payor in terms of vertical integration and clinical footprint.
Optum
Optum Health / OptumCare: By magnitude of market opportunity, Optum Health's growth strategy includes further transition to value-based care arrangements (fully capitated arrangements) and increasing revenue per consumer (expected growth of ~25% for 2023 here). Optum is looking to add 750k+ lives into the OptumCare VBC platform after growing by a million or so lives in 2022. From there, Optum will look to organic clinic growth and growth in ASC / specialty case volume through SCA Health – more complex procedures in ortho and cardiovascular in the outpatient setting – then growth in ancillary, integrated downstream offerings like behavioral health (Refresh Mental Health) and at-home care (LHC Group). Optum Financial also low-key has a huge potential market in its financial services and payments segment – for instance, linking health plan info, pharmacy benefits, and supplemental benefits, etc all into one ID and payments card for seniors – payor agnostic.
Optum Insight: Change Healthcare is the obvious one here – Optum will integrate Change's capabilities to automate certain steps of claims processing. Optum also wants to continue to use Insight to help with chronic disease management and advance AI capabilities.
Optum Rx: Nothing too special here, just continued growth, deeper integration and breadth of pharmacy care service, and further optimization for Rx as a whole. Potential cost savings from biosimilars coming onto the market are a growth factor as well, with an emphasis on providing the patient with more choices.
Optum's long-term growth rate expectations:
Optum Health (care delivery): 'double-digit' revenue growth with operating margins in the 8%-10% range.
Optum Insight (data & infrastructure): 'double-digit' revenue growth with operating margins in the 18%-22% range.
Optum Rx (pharmacy & PBM): 5%-8% revenue growth with operating margins in the 3%-5% range.
UnitedHealth Group M&A in 2022
I covered a few of these in the notable M&A section at the start of this essay, but here's a list of notable M&A for UHG and Optum in 2022. Optum has quietly gobbled up 70,000 physicians:
Change Healthcare: Change Healthcare will contribute just under $1 billion in revenue to the unit but will assuredly have much more drastic downstream effects on the Optum business as a whole.

"Really, as we think about the platform capabilities now between Optum and Change Healthcare, they're massive. It brings us to a true multi-payer capability that allows us to connect to our retail and provider care networks to deliver payments more efficiently, more effectively and drive a lot more value for both providers and consumers in that value chain and for us to really be able to build experiences on top of all this infrastructure that's been established over the course of the past 20 years or so." – Kurt Adams, Optum Financial

LHC Group: On March 29, UnitedHealthcare's Optum announced its acquisition of LHC Group for $170/share. The transaction values LHC at about $6.4 billion including debt. Acquiring LHC Group allows UHG to catch up to Humana, who now owns all of Kindred, in the post-acute sphere and further bolsters Optum's footprint in services adjacent to its main physician footprint along the care spectrum. It'll also be a key touchpoint into value-based care arrangements with UHG's HouseCalls program.
Refresh Mental Health: Refresh was rumored to be generating $40 million in EBITDA and was owned by private equity firm Kelso, which bought the mental health co back in 2020 for $700 million. At the time, Refresh operated in 28 states and 200ish facilities. The acquisition aligns with UHG's vision for integrated care delivery at Optum as does the LHC Group purchase mentioned next. Overall, Optum employs 4,500 mental health clinicians and served 42 million people.
EMIS Group: Optum acquired UK-based EMIS Group for $1.5 billion, about a 50% premium to EMIS' closing price. The firm is a software-based health tech firm focused on integrating physicians, connecting PCPs with specialists to provide seamless care across sites of service. Looks like a pretty interesting strategic acquisition for Optum and add it to the laundry list of companies the services giant is snagging at supreme discounts.
Kelsey-Seybold: Optum purchased Kelsey-Seybold ("KS"), a 500-physician, multispecialty practice with a huge footprint in the greater Houston area in April. Not only does KS provide Optum with yet another huge physician base in a large market, KS also runs its own ~40k member, 5-star MA plan – KelseyCare Advantage – and operates a consortium of ancillaries, including two ASC's, one of which is among the largest operating ASC's in Texas, 19 pharmacies, after-hours clinics (urgent care), radiation therapy & infusion centers, and imaging centers
Healthcare Associates of Texas: Keep in mind that in March 2021, Optum made a very similar acquisition in that of Atrius Health in Boston, a 715-physician, 30-clinic multispecialty group at the time. Similarly, Optum bought Healthcare Associates of Texas – a 60+ clinician group – for a $300 million enterprise value and apparent 15x EBITDA multiple.
UnitedHealth Group Financial Outlook for 2022
After intercompany eliminations, UHG expects Optum to hit $182.9M in revenue in 2022, growing around 12% to ~$213B in 2023 altogether. Overall, UHG will see revenues between an eye-watering $357B – $360B in 2023, representing ~10% year-over-year growth (again, after eliminations). The earnings per share guidance was lower than expected, but analysts believe that 2023 guidance in general may be conservative and depends on factors like whether patients will present with more complex cases and seek deferred care, or if the flu is higher intensity than normal, or whether the Change Healthcare integration is a flop.
Inflation Reduction Act: the biggest healthcare reform in 10 years?
In a 51-50 vote, Congress passed the Inflation Reduction Act (IRA) in mid-late 2022, which is a pared down version of the Build Back Better Act. Among other climate and tax-related provisions, I, as a healthcare freak, was obviously focused on the healthcare stuff. Lots of health policy experts are calling the IRA a huge breakthrough when it comes to drug pricing regulation.
Healthcare Stuff in the Inflation Reduction Act
Direct Price Negotiation for Drugs: When Medicare Part D passed in 2003, lawmakers banned Medicare from being able to negotiate drug prices since it would be too similar to every other developed country in the world.
With the IRA, Medicare can now negotiate drug prices on the oldest, largest drugs that still don't have any competition starting in 2026. Negotiation is limited to the 10 largest drugs and will expand from there each year (20 total drugs by 2029, from both Medicare Part B and D).
To be eligible for negotiation, a drug must (1) comprise a high proportion of Medicare spend, (2) not have any competition (e.g., biosimilars or generics, and (3) be 9+ years post-approval (depending on type of drug).
The IRA mandates minimum discounts (which the IRA refers to as the 'maximum fair price') of these eligible drugs.

Years 9-11 = 25% min discount
Years 12-15 = 35% min discount
Year 16+ = 60%
List Price Inflation: Drug list prices cannot increase faster than inflation for drugs that Medicare buys; otherwise they'll have to pay a rebate starting in 2023.
Out-of-Pocket Spending: Out of pocket drug costs for Part D will be capped at $2,000 for beneficiaries starting in 2025, which creates huge savings for beneficiaries but likely will result in much steeper costs for Medicare's share. This also seems advantageous to drugs priced in the previous out-of-pocket range ($10,000). Along with capping OOP spend, Part D premium growth would be capped at 6% starting in 2024.
ACA Subsidies: The IRA will extend ACA subsidies currently in place thru 2025, a $64B provision.
And finally…what's notably missing from the final bill:
Private Equity Escapes Unscathed: While the original bill removed the carried interest loophole, the final bill will let carried interest survive, which is a major win for private equity players. If the loophole had been eliminated, it MIGHT have incentivized longer hold periods for PE players in healthcare.
Insulin Caps: A $35 cap on insulin prices for private insurers (note – Medicare beneficiaries still receive this perk) didn't make it through to the final IRA bill, as it was considered out of scope for the reconciliation package.
Big Pharma's Big Beef.
As with most things (even when I'm wrong or off-base) I want to bring both sides of this bill to your attention. PhRMA isn't a fan of the sweeping changes to the industry. According to STAT, the pharma lobby spent 7+ figures – more in 2022 than any other industry – in an attempt to stifle the drug pricing changes in the IRA.
PhRMA CEO Stephen J. Ubl called the drug pricing plan a 'tragic loss' for patients:
"Today's vote may feel like a political win for Democrats, but it's really a tragic loss for patients. This drug pricing plan is based on a litany of false promises. They say they're fighting inflation, but the Biden administration's own data show that prescription medicines are not fueling inflation. They say this is "negotiation," but the bill gives the government unchecked authority to set the price of medicines. And they say the bill won't harm innovation, but various experts, biotech investors and patient advocates agree that this bill will lead to fewer new cures and treatments for patients battling cancer, Alzheimer's and other diseases.
So in short, the main arguments seem to be stringent government price control (since it's less of a negotiation and more of a "you get what we decide.") leading to less innovation. PhRMA is also arguing that net drug prices are decreasing when factoring in rebates and discounts/refunds and are therefore deflationary, therefore not contributing to inflation.
On the plus side, Big Pharma will have 3 years to digest the legislation, continue to lobby, and plan for the IRA's implementation. That's a hell of a lot of Drug Channels content, too.
Drug price negotiation/control isn't a new concept, even in the U.S. The Veterans Affairs has been able to negotiate drug prices for a while and has its own formulary. Plus pretty much every other developed country in the world negotiates drug pricing. So it's not like this policy is coming out of left field or anything. Medicare/Gov spending is about 20% of Big Pharma's revenue mix, so while it's significant, it's not insurmountable.
Eligible drugs are limited, which makes me think that the actual impact of the law is overstated – for now. The big thing happening here is the government putting its foot in the door and setting the precedent for continued and expanded scope of negotiation in 2030 and beyond.
While I understand the argument related to innovation, drug makers will still have plenty of flexibility on initial price and will undoubtedly find other ways around the regulations in the classic cat and mouse game.
Open-Ended questions I have:
Will these changes trickle out to the commercial market? To what degree?
How will the IRA affect physician oncology compensation (drug dispensing / infusion ancillaries) and the 340B program?
Will the IRA and Medicare drug negotiation push drug makers into more creative, value-based arrangements? How will drug pricing models shift as a result of the legislation? I would assume that the structure would incentivize higher upfront list prices that the government would then try to negotiate down.
Resources:
The year and upcoming decade of vertical alignment
Over 2022 and entering 2023, payors are actively working to expand their clinical footprints across physician practices and associated ancillaries, ambulatory surgery centers, virtual healthcare, behavioral health, and home health (vertical integration = dominant strategy).
Major payors are now creating their own versions of Optum with full services functions across pharmacy, benefits management, healthcare services, and technical infrastructure. In March 2022, Anthem announced an organizational restructure, rebranding to Elevance and setting up a new services entity called Carelon. Cigna's Evernorth includes its pharmacy benefit manager Express Scripts. Cigna Medical Group likewise rebranded to Evernorth Care Group under a strategic rebrand. In September, Humana announced a similar organizational restructure, rebranding Kindred at Home to CenterWell Home Heath as part of its broader services strategy under the CenterWell brand along with its pharmacy and specialty pharmacy service lines.
Heavy investment in primary care has been a key area of focus for payvidors. More recently, Humana engaged in a partnership with Welsh, Carson, Anderson & Stowe (WCAS) to develop senior clinics for CenterWell and has planned significant expansion, intending to open 30-35 new centers in 2023. Humana is deploying $1.2 billion in capital to develop over 100 new CenterWell centers by 2025. Finally, Optum purchased home health provider LHC Group for $170/share, or $5.4B (pending approval).
Healthcare workforce dynamics entering 2023
While the travel nursing and contract labor saga is slowly winding down, nursing and clinical shortages continue to plague hospitals. Nurses and unions nationwide are striking, demanding higher pay in the highly inflationary, clinically challenging environment.
The Bureau of Labor predicts a vast nursing shortage in the coming decade, with an average of 194,500 RN positions available annually over the coming years. McKinsey estimates an even more dire nursing shortage between 200,000 and 450,000 by 2025. Staffing comprises about half of a hospital's cost structure, and 33% of nurses are planning to leave their current position. Between 2017 and 2021, RN turnover increased from 17% to 26% respectively. 46% of hospitals surveyed in a recent Kaufman Hall analysis identified labor costs as the biggest opportunity for cost reduction.
Labor challenges have a two-pronged effect: higher nursing salaries and benefits squeeze hospital margins, leading to increased costs per patient day. In addition, shortages are hurting hospital census, forcing hospitals to shutter admissions and close certain inpatient units. Further, post-acute care labor shortages lead to longer length of stay, filling up high-value hospital beds with low-value observation days. Operators with long surgery backlogs are struggling to unwind caseloads as constraints create volume challenges.
To bring down high-dollar contract labor and travel nursing costs, hospitals are making major concessions to bring nurses home to full-time positions, with the ultimate goal of boosting retention. Amidst unprecedented staffing shortages and workforce burnout throughout 2022, strikes have been a major theme for the year and the clinical workforce holds the bargaining chip entering 2023. As a result, nurses are getting big pay days. A few examples across the nation:
Kaiser Permanente averted a 21,000-nurse strike, offering a 22.5% salary increase over 4 years among other provisions to its nursing base.
The Minnesota's Nurses Association, representing 15,000 nurses, ratified a new 3-year contract that calls for an 18% increase over the contract's timeframe – the largest won contract for the MNA in two decades!
HCA Healthcare is providing its nurses with semi-annual payment updates based on local market analytics and is also heavily investing in its Galen College of Nursing program along with increased benefits.
Ascension's Borgess Hospital tentatively agreed to a 20.5% year-one raise to 300 or so nurses with the Michigan Nurses Association, a union representing 13,000 nurses.
Bottom line: The dynamics we've seen in 2022 are the reason why staffing agencies are seeing massive investment. There is a ton of room for improvement and financial gain for finding permanent placements for nurses, but also still quite a lucrative travel nursing operation that isn't going away.
Nurses and clinical personnel are not only getting massive raises but also are receiving perks like the creation of new nurse-led task forces, workplace violence prevention provisions, mandatory minimum staffing ratios, tuition reimbursement, sign-on bonuses, and future hiring promises from health systems. On the hospital side, we're likely going to see a tale of two systems. Efficient operators like HCA and Tenet are tired of paying travel staffing firms crazy sums to manage their census and are increasing investing in permanent nurses + retention programs to reduce travel spend. On the other hand, nonprofit health systems will continue to see margins erode and utilization falter.
Direct contracting results set the stage for ACO REACH
On November 29, CMS published the results for the 53 entities participating in the Global and Professional Direct Contracting (DCE) program. After diving into the results (which you can find at the bottom of that linked page), here are some of the biggest takeaways:
From a pure dollar perspective, Clover Health performed the worst in the DCE program, at a net savings rate of ($30.4M). That's quite notable considering Clover was touting DCE growth throughout 2021, expecting its membership to zoom to 125,000 lives in 2022. With the onset of ACO REACH, Clover is, expectedly, dialing back its participation. Interesting considering at one point, according to Health Affairs, Clover attributed 70% of its $3.7B valuation to the DCE program (now sitting at a $600M market cap and $245M enterprise value). It will reduce its total attributed DCE lives by two thirds and gross revenue will hit just north of $1 billion in the program – which is why you shouldn't value Clover on a revenue multiple, folks. Pretty crazy that Clover almost singlehandedly dragged down this whole program but perhaps there's a broader strategy I'm unaware of.
All 53 DCEs created north of $119M in gross savings and $47M in net savings, with around $70M in savings generated for Medicare.
72% of DCEs generated savings while 15 lost $$$
Median savings were $775k or 2.8% of the pre-discount benchmark
Top performers included Oak Street Health, VillageMD's combined 6 DCEs, OH Columbus, Vively Health (DaVita), and Humana. The top 10 generated $65M in net savings, while the bottom 10 lost $52M, $30M of which was Clover. If you removed Clover from the equation (which is the massive orange negative bar in the graphic below), you likely get a much different picture for the DCE program overall:
What's next: ACO REACH starts in 2023, which has much more stringent requirements around ACO plan design to address people with traditional Medicare in underserved communities. REACH participants will need to make "measurable changes to address health disparities. This includes greater access to enhanced benefits, such as telehealth visits, home care after leaving the hospital, and help with copays."
ACO REACH aims to continue to move traditional Medicare toward risk-based and capitation payment models through…
Allowing mainly provider-controlled groups into the program. 75% of applicant boards have to be provider-controlled. Non-provider groups have to demonstrate a certain level of direct patient care to be included in REACH.
Addressing health equity (SDOH) – Every entity has to identify & determine ways to address health disparities in specific markets & geographies – dope
Preventing the abuse of risk score adjustments. CMS is capping adjustments based on population trends & traditional Medicare risk score trends among other more specific items.
Maintaining a similar PMPM payment structure to DC by keeping the professional and global payment tracks, but ditching the controversial geographical track.
Alleviating Progressive concerns about 'corporate profiteering' and 'getting rid of Medicare' – Beneficiaries will keep all provider choice freedom that traditional Medicare provides. This is in contrast to Medicare Advantage programs that typically create narrower networks.
Providing greater transparency into the program. AKA, more reporting on how entities are doing, how health equity is being addressed regionally, etc.
Based on 2021 savings results, the notable players best positioned to perform well in ACO REACH include Oak Street Health, VillageMD (spread across 6 entities and what I expect to be even more participation after the Summit deal), Humana, Iora, and Vively Health, a subsidiary of DaVita.
Other notable moves in healthcare
Mark Cuban's Cost Plus Drugs' next target: Employers
On December 8, Mark Cuban Cost Plus Drugs (MCCPD) announced a partnership with EmsanaRx, a pharmacy benefit manager (PBM) created by the Purchaser Business Group on Health (PBGH) (seriously, what's with the names guys – this isn't a legal document). Together, MCCPD and EmsanaRx will launch an offering of MCCPD's discounted cost-plus model targeting self-insured employers. As part of the deal, EmsanaRx, created back in October 2021 and also a public benefit corporation partnered with the Cleveland Clinic, will handle the tech and prescription fulfillment. It'll collect a transparent 1.5% flat fee for each claim managed (AKA, passing on all rebates – upfront PBM pricing). The ultimate goal of the partnership aims to provide employers with low-priced medication through employer plans rather than going through a third party with drug discount cards. Shots fired. The new employer offering will launch in March 2023. Meanwhile, PBGH is a coalition of around 40 employers that MCCPD can potentially sell the new offering into.
Madden's Musing: For anyone questioning how far MCCPD or other new pharmacy and drug startups grinding to provide affordable, accessible drugs can 'move the needle' in healthcare, I have to ask you to take a step back for a sec. What are you expecting? To see these companies immediately dominate incumbents hundreds of billions of dollars in size? This is healthcare, not SaaS. Cuban and others are paving their way into this industry, and that starts with consumer trust and generics. The move from MCCPD is significant – it's a notable partnership outside of the existing direct-to-consumer strategy into a new venture catered to employers. If MCCPD can tap the employer market and offer the lowest cost on 1,000 drugs with transparent pricing…I mean what's not to like from the employer side?
MCCPD is announcing a major move every month. It integrated with Rightway PBM in late September then Capital Rx, a Pennsylvania Blue Plan, in October. In Q4 it'll open its manufacturing plant, targeting injectables and other hard-to-source drugs.
Bigger Picture: Lots of activity is happening in the drug pricing space. From a policy perspective, Congress passed the Inflation Reduction Act, one of the most significant pieces of healthcare legislation in recent memory. GoodRx recently announced a partnership with Express Scripts to become the exclusive discount card provider for commercial members and adjudicate at the lowest price for generic medication. Beneficiaries get the lowest out of pocket cost, and no matter which PBM pricing they use, all spending applies to their deductible.
I expect to see more moves happening as MCCPD and other competitive forces shape change. Next stop: brand-name drugs, a much tougher task.
TL;DR: MCCPD operates a generic drug model with fixed, transparent markups direct to consumer. It is extending this model to the employer sponsored health insurance market through a partnership with EmsanaRx, which will also offer a fixed PBM markup but pass on all rebates beyond the 1.5% upcharge.
Amwell in talks to acquire Talkspace for $1.50/share
Amwell (not Awell) is potentially buying Talkspace for $1.50 / share, or $200M – an ~85% discount to Talkspace's SPAC go-public price of $1.4B. Talkspace's share price rose from $0.60 to $0.81 after the news dropped, so if you think this is legit, go make some arbitrage happen (not investment advice)! The acquisition talks are in "advanced" stages.
Context: Talkspace went public during the SPAC wave over the summer of 2021, merging with Hudson Executive Investment Corp and handing over $250M in growth capital to the virtual mental health provider. Since its public debut, Talkspace's chart has unfortunately declined down and to the right, losing 86% of its value. Over that timeframe, Talkspace also missed on multiple operating metrics it had promised in its SPAC presentation.
For instance, In its SPAC presentation, Talkspace expected:
$125m in net revenue for 2021
$205m in net revenue for 2022
64% gross margins
46k consumer subscriptions
In reality, Talkspace reported significantly lower results for 2021:
$114m in net revenue for 2021
NO guidance for 2022
59% gross margins
24k active consumer subscriptions
In Q3, Talkspace reported a further-deteriorated gross margin of 49.4%, an 11% decline from YTD 2021.
Madden's Musing: All that being said, Talkspace isn't worth zero in spite of its cash burn. As SteadyMD CEO Guy Friedman pointed out, Talkspace holds valuable B2B contracts with employers and payors – 86 million eligible B2B lives, a 52% increase year-over-year – in addition to around 18,000 active direct-to-consumer (DTC) members – a 36% decline year-over-year. As Zach Miller, author of the Post-Op pointed out in a reply, Amwell seems to think that it can unlock some of that engagement on the B2B side and perhaps offer it to employers alongside SilverCloud Health, a virtual behavioral health platform it acquired back in August 2021. The potential move is perplexing analysts, though, who seem to think that the better direction for Amwell would be to focus on profitability and priorite Converge growth, its recent made-from-scratch telehealth platform. Remember – Amwell hasn't done too hot in the public markets either.
Big picture: Given Talkspace's materially declining DTC business and the fact that it allegedly rejected acquisition offers from Mindpath in May 2022 and Amwell itself as recently as June, is the writing on the wall for the state of the private mental health space? There are multiple unicorns (at least, as of their last funding rounds) operating in the same space as Talkspace, which is a scaled mental health pure-play cutting marketing spend and consequently seeing DTC growth dry up. DTC mental health is more sensitive to market and economic downturns, so I have to wonder whether we're going to see things crumble here once cash dries up. That being said, there is SO much demand. As is a consultant's favorite saying, "time will tell."
Heritage Provider Network nears an $8B – $10B deal
Massive provider group Heritage Provider Network (HPN) is rumored to be near a deal to sell to a consortium of PE players brought together by the Carlyle Group, a private equity firm whose portfolio includes One Medical.
Details: The price tag, according to the article, will likely end up between $8B – $10B. HPN is an asset not too different from Summit given that it's made up of several physician practices and operates a large urgent care footprint in the California (with some footprint in NY, AZ) area. It's a solid cash-flow generator, producing around $600M annually.
Per the website, HPN has a huge footprint comprised of 3,700 physicians, 10,000 specialists, and 1,700 affiliated facilities (note: affiliated, not necessarily owned).
Madden's Musing: Assuming the deal goes through, the size would create one of this year's largest leveraged buyouts coming hot on the trail of the Walgreens/VillageMD/Cigna(Evernorth) $9B deal for Summit.
Bigger picture: Huge, independent provider groups continue to sell to financial (PE) and strategic (Optum, hospitals) players as retiring MDs look to cash out and healthcare service providers see choppy waters ahead in 2023.
Resources:
Nomi Health's game-changing Launch
Nomi Health, an organization focused on providing direct healthcare and cutting out all middlemen possible (No Middlemen Health, get it HA!) launched a fascinating new fintech payment management product this week aimed at supporting providers and organizations. Called Connect, the platform supports and pays providers in real-time while also integrating every step of the billing process between patient, provider, and buyer.
Madden's Musing: Following in the footsteps of Cedar and OODA Health (acquired by Cedar for $425M) but more ambitious in scope with its emphasis on direct healthcare (cutting out embedded payor payment workflows, etc.), Nomi is making a game-changing play here, which is kind of sad considering this product and products like Connect are the way that healthcare revenue cycle management SHOULD be. It's build different for a few key reasons:
Health plans and third party administrators can administer claims much faster with less friction (no fax machine?)
Patients know what the heck they're paying for and aren't getting lab bills or anesthesia bills in the mail 2 months after the procedure or scan
Providers will love it because it vastly improves their cash flow. In fact, providers would likely accept lower reimbursement rates if it meant cash faster in the door rather than wasting hours tracking down and disputing claims
This is a notable move from Nomi Health and I'll be interested to see how the Connect platform plays out. They're a name to keep an eye on. Like Mark Cuban's Cost Plus Drugs, Nomi seems to be making a play for a simplified healthcare system – one rebuilt with trust. "The launch of the fintech platform is the next step in Nomi Health's years-long mission to create easier access to lower-cost, high quality care by rebuilding how care is paid for and delivered." (insert side-eyes emoji here).
Resources:
Nomi Health Product launch press release (Read more)
Nomi Health Connect Fintech Platform Demo (Watch)
OneOncology Dives Head First into Value-Based Specialty Care
OneOncology is going full risk-on! On Monday, October 3rd, the oncology practice care platform announced that all 14 of its practices applied to participate in the new CMMI Enhanced Oncology Model (EOM). EOM is a 5-year voluntary alternative payment model that will start next year on July 1. Under the model, OneOncology will take on 2-sided risk (AKA, can lose money to the downside) for episodes of care that involve chemo administration to patients with common cancer types.
Madden's Musing: OneOncology is a significant player in the cancer care space with an expansive footprint – 850+ providers, 175+ sites of care, and 485k+ patients (backed by General Atlantic and partnered with Flatiron Health in 2018). There's a ton of momentum in oncology care between EOM and Biden's Cancer Moonshot program. But the biggest part of this news to me is the fact that specialty care is the next frontier for value-based care. In my mind, this is a significant jump into risk-based payments for specialists, an untapped – and huge – market.
Just look at what Optum is doing – it quietly rebranded Surgical Care Affiliates, its specialty care segment, into SCA Health to 'support growth into many aspects of specialty care' like transitioning specialist practices to primary care and even pursuing risk-based contracting in the ASC setting. Meanwhile, UnitedHealth execs are touting the growth of value-based care arrangements in Optum. Optum leads the way and everyone else follows.
Resources:
Truepill gets caught in the Cerebral muck, now investigated by DEA
The Drug Enforcement Administration issued an Order to Show Cause on Truepill's pharmacy operation, putting Truepill's DEA Certificate in jeopardy.
Context: the DEA alleges that "between September 2020 and September 2022, Truepill filled more than 72,000 controlled substance prescriptions, 60 percent of which were for stimulants, including generic forms of Adderall. In numerous instances, Truepill dispensed controlled substances pursuant to prescriptions that were not issued for a legitimate medical purpose in the usual course of professional practice."
"An investigation into Truepill's operations revealed that the pharmacy filled prescriptions that were: unlawful by exceeding the 90-day supply limits; and/or written by prescribers who did not possess the proper state licensing."
Madden's Musing: I'm sure there are a number of therapists who have a much more nuanced opinion of what's going on here than I do. But what should have been prevented via seemingly basic safety check between Truepill and Cerebral has turned into the potential for the DEA to pull Truepill's DEA Certificate. At the very core of this whole ADHD pill mill debacle sits the role of financial incentives. The current state of virtual mental healthcare in the U.S. is a damning indictment of perverse venture-backed investing and with it, the pressures of growing at all costs.
Truepill hit $300 million in revenue and raised $142 million at a $1.6 billion valuation in October 2021. It's a rapidly scaling, well-known unicorn that seems to have failed basic pharmaceutical professional functions.
If you have an WSJ subscription, this was a great overview of the failures of online mental health providers like Cerebral, BetterHelp, Done, and Workit. The online mental health scene is an actual mess:

Cerebral now faces two federal investigations
Done, which is apparently run by a Facebook product manager (???) also faces a Justice Department investigation
Ahead (not accused of wrongdoing) was shut down by Truepill in April 2022 despite the digital health player dropping a $9 million investment into the company in 2020 (Truepill pivoted away from DTC)
In the WSJ article, Workit has been accused of building a "Suboxone vending machine"
Similarly, Talkspace "grew too quickly, and in growing so quickly they sacrificed quality"
BetterHelp has seen its share of poor patient care and had a paid affiliate controversy in 2018
The incentives between growth at all costs, and actual provision of healthcare in many virtual mental health cap tables are misaligned. In general, VCs are well-intentioned with the goal of improving the patient experience while being rewarded for taking on investment risk. But we have to be thoughtful about the financial incentives and risk-taking behavior that venture might instill into founders. I hope that the bad actors don't crowd out the best players and scare off investment dollars from the space, because the need is there – and that goes for all of healthcare.
There is a silent majority of therapist clinicians who are doing a great job at providing mental health services. The demand and need for behavioral health is extreme in the U.S. But the current models of online therapy provision deserve scrutiny, and accountability. That should include ALL parties involved.
If you have any thoughts, musings, or disagreements with the above, I'd love to hear your take! Lots to talk about here and I'm sure there's plenty of nuance to be had with the issues at hand.
Komodo Health's CFO departs amid $200M fundraise
Just 9 months since enterprise analytics and data unicorn Komodo Health had planned to go public, there have been some interesting developments at the health tech firm. Opting to stay private, Komodo decided to raise $200 million from Dragoneer (anyone else find that ironic haha…Komodo Dragoneer get it) and Coatue, in a structured equity infusion. Along with the raise, Komodo laid off 9% of its workforce. Totally fine and justifiable in current macro conditions. Maybe even prepping and fine tuning with one more capital raise to get ready for the public markets?
But then the kicker: along with the announcement, Komodo's CFO left. Big eyebrows raised red flag for most organizations. Now, I obviously have no inside knowledge here, but the CFO is usually the first guy or gal to know terms of capital raises, achievability of financial projections, etc…so if that key position departs right before a potential IPO – a big payday for most execs – it leads me to question what's going on over there?
Conclusion
As always, for such a slow moving industry overall, there's a ton of stuff happening behind the scenes. Hopefully this post got you caught up on all things healthcare and business entering 2023 – it's gonna be a hell of a ride!
Join 13,500+ executives and investors from leading healthcare organizations including HCA, Optum, and Tenet, nonprofit health systems including Providence, Ascension, and Atrium, as well as leading digital health firms like Tia, Carbon Health, and Aledade by subscribing here!