Breaking down physician enablement care platforms
Note: This article was originally published on May 12, 2022, but I've provided some updates as of January 26, 2023. Enjoy!
Today, I'm diving into the physician enablement landscape in the public company sector.
Specifically, what pain points are Privia, ApolloMed, and agilon trying to solve?
Let's break down the business model of the new-age physician practice management company and current dynamics facing these guys.
If you have any thoughts on the enablement platform landscape or want to sponsor/partner with Hospitalogy, email me at [email protected] – or connect with me on LinkedIn or Twitter.
Join 17,000+ executives and investors from leading healthcare organizations including HCA, Optum, and Tenet, nonprofit health systems including Providence, Ascension, and Atrium, as well as leading digital health firms like Tia, Carbon Health, and Aledade by subscribing here!
Key Takeaways on Physician Enablement
The Enablement Hypothesis:
There's a shortage of primary care physicians
The senior population is growing at an unsustainable level given current shortages
Burnout is at or near all time high's for clinicians in healthcare
CMS and payors want more efficient, controllable cost of care and are incentivizing risk-based arrangements
Enablement platforms check all of these boxes and perfectly align with economics at play.
The healthcare delivery system is transforming and will continue to transition to risk-based arrangements over the next decade. Historically, healthcare has favored fee-for-service arrangements that promote higher healthcare spending.
With the coming Boomer Medicare wave and increased utilization, the U.S. healthcare delivery system will favor players who can REDUCE healthcare spending as costs grow unsustainable.
Along with the cost trend, physician employment will hit max 'employment.' New technology developed to support physician practices will enable a swing back to independence.
These scenarios create the perfect storm for enablement platforms to capitalize on – alleviate existing administrative burden stemming from billing, documentation, prior auth, etc. but allow the physician to…do physician things.
Enablement platforms perform all of the back office functions to allow physicians to focus on care, acting as a central business office and clinical coordination platform.
Similar to private equity roll-ups and the Optum's of the world, enablement platforms are physician aggregators. There's a ton of competition for physicians as they are the linchpins of healthcare, dictating referral patterns & care coordination for value-based care while controlling volumes for high-margin ancillary services for downstream hospitals and private equity.
Enablement platforms hold a sizable financial opportunity in transitioning practices to value-based care arrangements given the secular tailwind. CMMI programs backing risk-based arrangements will be one of the largest healthcare reforms ever. In 2023, 13.2 million Medicare beneficiaries were involved in accountable care relationships.
Although the enablement business model is capital-light, they still face plenty of execution risk and other challenges present in the physician practice space. They need to be careful, focus on physician retention, and continue to prepare for headwinds facing value-based care programs.
The Problem Physician Enablement wants to Solve
These days, a physician practice operation is insanely complex. Physicians want to focus on practicing medicine. Unfortunately, administrative tasks get in the way. Between maximizing patient engagement, billing and collecting, data analytics, documentation, payor negotiation, vendor purchasing, expense management, and plenty of other management tasks, physician practice back-office function…is a massive painpoint.
As a result of the nuance and complexities of running a practice, current labor challenges, and an aging physician base, physicians are fleeing the independent, private practice for the safety and stability of hospital or corporate employment. They might also opt to align with private equity backed roll-ups, whose alignment with physicians can vary depending on the specific model.
As a tell-tale sign of the times, even certain large, long-standing independent groups like Kelsey-Seybold and Atrius Health are dealing with the devil…selling to Optum as insurers morph into payviders.
Source: PAI-Avalere Health Report on Trends in Physician Employment
All of these employment options might come with certain trade-offs from the physician's perspective. Especially for physicians, it's important to align with an employer or partner whose values they agree with.
On the private equity side, physicians might get uncomfortable if certain PE players push volumes or profitability concerns on them. For hospitals, they might get disgruntled by the lack of autonomy.
So what's a physician supposed to do if they're put off by one of the options listed above but can't really succeed independently?
The Physician Enablement Solution
There's finally another option for physicians who want to maintain autonomy, but also would like to succeed in and transition to value-based care arrangements.
Physician Enablement platforms. I'm a fan of practice management models that allow physicians to retain their independence for referrals and medical judgment.
We'll call them enablement platforms or EPs for now (you could also think of them as a 'modern' management service organization, or MSO).
This space includes publicly traded companies like agilon, Privia, Apollo Medical Holdings, and P3 Health Partners.
There are also plenty of startups building out similar infrastructures in the space. As far as close peers to the public operators, Aledade takes the cake, is performing quite well, and seems to pursue a similar model to Agilon. Pearl Health announced a $75M raise led by a16z and Viking Global Investors. Companies like Lumeris are flying under the radar while producing stellar results in health system and physician enablement. Other firms like Emergence, Third Way Health, and Ease are working in more focused areas of enablement, including working with specialists, front desk, and financial support for private practices. There's a ton of positive momentum here, and the future of the physician practice is nigh as robust turnkey solutions grow in prevalence.
Basics of the Physician Enablement Business Model
The whole goal of these tech-enabled, physician enablement companies is to optimize the physician practice, give them a one-stop shop of tools to use to manage every aspect of the practice, build up the EP, give physician-friendly terms on profit sharing, and maximize value by transitioning affiliated physicians to risk-based arrangements.
"Let us help you with the transition to value-based care. Revenue cycle management? No problem. We can also set up your website interact with patients in a user-friendly way. Our management company can negotiate with payors on your behalf. We'll partner with you even while you're in fee-for-service land and help you take risk over time." – EP operator I made up for the purpose of this exercise
The enablement platform's number one goal is to keep their model physician-centric to retain physicians. Happy physician, happy life. Isn't that how the saying goes? Anyway, the more physicians on the platform, the better off these care platforms are for a number of reasons. But retaining is only half the battle. More on that in a sec.
There's no way around it – these business models are confusing. And highly nuanced. But at a high level, EP's are just physician aggregators, and they want as many physicians as possible on their platform. On the base business, they charge affiliated provider groups a percentage of revenue for their services, then take a cut of any shared savings generated from value-based arrangements.
Once the practice has agreed to a partnership, there are essentially three high level steps to the integration process between a EP and new group:
Integrating the new physician practice into the EP's corporate structure. For Privia, that means onboarding the group onto its single Tax Identification Number. For ApolloMed, the physician or group would join one of its affiliated IPAs which is already under a long-term contract with its MSO and payors. Once onboard, a platform can improve practice financials through better purchasing agreements and other levers, examples below:
Source: Privia investor presentation
Migrating the practice's tech stack onto the EP's single-point solution. Whereas before the practice may have been dealing with 15-20 vendors for various functions, now they're onboarded fully onto the EP's streamlined solutions. One platform. Boom. ApolloMed had a great illustration for this in its investor presentation:
Source: ApolloMed investor presentation
Transitioning the practice to fully risk-bearing contracts. Any savings generated are shared between the EP and physician groups at pre-determined rates (typically slated more favorably toward physicians, say 60% / 40%). Of course, the transition takes time and holds the most execution risk. Everything in healthcare takes time – you knew that! Here's a simple economic breakdown of how a capitated model works in an MA plan:
Source: agilon investor presentation
Each enablement platform is pursuing this general strategy in slightly different ways.
Privia's strategy seems to try to meet every single type of physician group – primary care or specialist, independent or hospital-owned – where they're at to prevent operational disruption. Privia even introduced a "light" version of its platform for physicians who opted not to 'fully' integrate onto its athenaHealth-backed EHR. Privia's model seems to be highly flexible, working more as a traditional MSO while the practices are under fee for service, then helping practices go full-risk.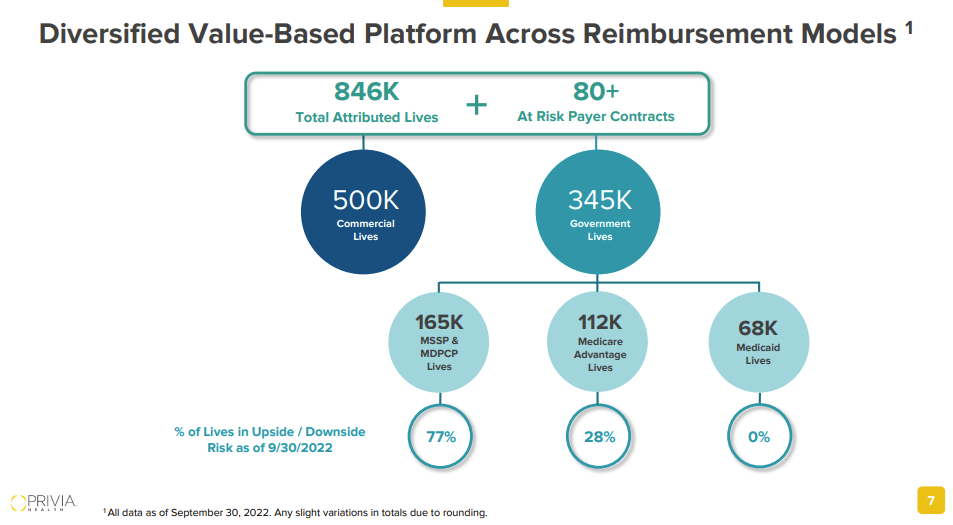 ApolloMed holds a 14-IPA network and works with IPA-aligned physicians & contracted payers to coordinate care and maximize value through primarily capitated arrangements (being located in California). ApolloMed also holds investments in MSOs and one of its ACOs participates in the CMS direct contracting program.
agilon targets primary care practices and has grown to 1,600 partner physicians, holding the largest PCP practices in several key markets. agilon leverages those PCPs' existing patient panels to grow its Medicare Advantage membership and also has a distinct focus on CMS' direct contracting program. A key differentiator here is that agilon only targets Medicare Advantage members. Privia and ApolloMed hold diversified payor mixes and are more payor-agnostic.
Source: agilon investor presentation
Financials and Profitability of Enablement Platforms
While the below snapshot above isn't a perfect representation of enablement platform economics, it's a good starting point. What you'll find is that most of these platforms are still very much in growth mode as you can see by the member multiples (which don't really capture the full picture anyway). Building out good healthcare businesses takes time.
Once these EP's find a new physician partner to align with, initiating the partner on the platform is just the first step. The bigger step – and subsequent wider gap here – is integrating the new physician partner into the IPA or ACO, where the platform flywheel can begin. The risk-bearing arrangements are where all the money is at.
So far, the growth story has played out in the EP landscape. Implemented providers are growing, and revenue growth is pretty healthy – not too quickly, which I view as a positive.
Enablement Platform Strategy – Growth, Partnerships, and M&A
Here's the insane part about these businesses. They're unbelievably capital-light. For the entirety of 2022, Privia projected capital spend of less than $1 million, and 90% pull-through from adjusted EBITDA to cash flow!! Enablement platforms also convert a high portion of earnings into free cash flow for that reason. Bottom line – the provider affiliation model that enablement platforms pursue lends itself to a ton of flexibility when it comes to use of cash.
As a result, EP's can aggressively pursue M&A and other growth strategies as desired.
In 2022, we've seen enablement firms make notable partnerships or acquisitions, like ApolloMed acquiring Orma Health, a value-based tech platform as well as acquire Jade Health, a 350 physician group, through an affiliate.
EP's can continue to invest in innovative new solutions to enhance their tech stacks for providers as well as increase footprints through acquisitions.
Both Privia and agilon engage in a hub-and-spoke type model when trying to penetrate new markets, which is ironically similar to the private equity roll-up strategy. This model works by nabbing a partnership with a big, platform-level provider group in the target market, then using that group as a launchpad to expand into adjacent areas and tuck in physician practices.
An underrated aspect of these models is the quite content physician base. On recent earnings calls, ApolloMed management mentioned a driver of organic growth for their business was word of mouth recruitment by existing physician affiliates, which I personally see as a signal favoring the model's success and longevity. To add to that note, Privia consistently notes its physician retention and NPS with both patients and providers meaning enablement platforms are attractive partners for physicians preferring independent practice:
Source: Privia investor presentation
Finally, EP's are starting to ramp up partnerships, announcing collaborations with major players in the Old Guard healthcare world. Some examples in 2022:
Aledade also partnered with Elevance Health, bringing its platform to affiliated Elevance physicians. Here's the beauty of all of this – enablement platforms work across all healthcare services players – payors, health systems, physicians – so their TAM is gigantic. And growing.
Not only can enablement platforms scale through adding physicians and partnerships, they can also optimize their current physician practice base operations through better purchase agreements, better contracting, more efficient workflows, and a host of other opportunities in their existing markets.
As you can probably tell, EP's are more scalable than most in healthcare. The only thing really holding them back is well…the number of available physicians out there and how competitive physician practice M&A and affiliation is right now.
Enablement Bull Case
As far as the bullish thesis is concerned, you could argue there's a perfect storm brewing for these EP's over the coming years:
Physician Independence. As I've said previously, my thesis is that over the coming years, the physician employment and alignment pendulum swings back to independence. Enablement platforms will outcompete other players for physician recruitment through the popularity of their models with existing physician bases.
Payment Reform. There is still a ton of room to grow in the Medicare Advantage population, and CMMI direct contracting related programs are in the early innings. All of these enablement platform operators will continue to prosper from these programs. McKinsey sees value-based care programs as a $1 trillion market opportunity.
Different this Time. The new-age enablement platform model will NOT repeat the sins of the past PPM's. Physicians will continue to find a nice cultural and clinical fit through enablement platform management. EP management financial terms are much nicer (likely 10-12% of revenue) than 90's PPMs (20%+ of revenue), which puts less pressure on them to be perfect.
We have the Technology. Since enablement platform models are so capital light, they'll be able to invest in tech and data driven resources light years ahead of other care models, giving them a distinct edge and moat over competitors. There's still a lot of progress to be done on the tech side to enhance clinical care management. The better infrastructure over time will lead to fewer hospitalizations, better patient care & satisfaction, and shared savings, aligning incentives in healthcare and benefiting all parties involved.
Ancillary Expansion. There are additional opportunities for these players to expand into ancillary healthcare services. ApolloMed already manages a few urgent care centers and surgery centers. I don't see any reason why other platforms couldn't do the same, especially with how many ancillaries large multispecialty practices tend to hold (lab, imaging, ASCs, etc.).
Enablement Bear Case
The reality for healthcare right now is that a ton of physicians still operate in a fee for service world. In order for enablement platforms to fully realize their potential, they have their work cut out for them to transition their physician base to value-based care arrangements.
With that being said, there is a LOT of execution risk involved in running a physician-enabled platform:
Integration. Not only do these platforms have to recruit physicians to their platform, they're also literally managing every aspect of the physician practice's operations outside of the care itself. No pressure!
Lack of Assets. What do these companies actually own? They have cash, but no other assets. This is the inherent problem with platforms in general. AirBnB owns no homes. Uber owns no cars. Privia and agilon own no physicians or clinics. EP's just provide the platform. As a result, you could argue that enablement platforms hold no moat, and these firms are going to have to devote major resources to retain their physician bases. They're majorly exposed in a partnership model.
What's stopping them from leaving at the first sign of trouble? What's stopping them from going to a new competitor that's well capitalized and offering more favorable value-based contracting terms? I assume that EP's enter into long-term management services contracts with their provider groups, but we've seen this exact same story play out with the 90's PPMs, and spoiler alert: it didn't end well.
Competition. As I alluded to earlier, there is a TON of competition for physician attention. Optum is gobbling up physicians. Private equity is playing its hand in the roll-up game. Hospitals are chomping at the bit to employ physicians and capture market share. While not all of these are true competitors to the enablement platform model, it muddies the waters. Many of these models are financially successful, and the independence thesis may not play out on a broad scale.
Medical Cost Management. If these EP's are unable to successfully manage risk, the thesis is kind of immediately broken. The whole point of the tech-enabled enablement platform is to use data-driven insights and better care coordination strategies to drive cost savings and thus enhanced profitability. Plus, physicians are partnering with EP's primarily to shift to value-based contracting. No value creation = bad share price performance, too.
Accounting Complexities. GAAP accounting for enablement platforms is kind of weird especially with corporate practice of medicine provisions and risk-based accounting accruals, which adds more complexity and nuance to the business model, making it even more difficult to understand for the average investor and physician.
Recession Resistant? What happens in an economic downturn? Medicare Advantage programs are likely untouched, but Commercial and Medicaid are affected. Will this affect risk-based contracting? If a large portion of the physician platform still operates on a fee for service model, will EP's be able to weather the storm when payors push down minimal to no rate lifts? EP's need to ensure that increased rates from insurers isn't their only value prop.
Market Maturity. What happens when value-based care arrangements in healthcare reach critical mass? Right now, insurers are incentivizing VBC arrangements over fee for service ones and potentially offering more lucrative terms on those contracts to entice a small but growing level of participants. Meanwhile, regulatory scrutiny of risk adjustment is picking up. If reform happens here, will insurers one day soon play hardball on these sub-capitated contracts?
Final thoughts on Enablement
As I wrote this essay, I couldn't stop thinking of all the potential that this space has – not only for the platform-based affiliate players, but also for the clinic and facility based guys like Cano, CareMax, One Medical, and Oak Street. Not to mention the exciting wave of startups and privately held tech-enabled players making their own headway.
While building any healthcare business is rampant with risk from a variety of directions, I really do think the enablement platform space has built out a solid foothold for itself and is here to stay long-term. We'll see if I'm right!
If you have any thoughts about anything mentioned above, I'd love to hear your opinion – including anything I missed. This space is complicated, and I'm sure there are more nuances to be considered. If you made it all the way here, I sincerely appreciate your readership!
Resources:
---
That's it for this week. Join 17,000+ executives and investors from leading healthcare organizations including HCA, Optum, and Tenet, nonprofit health systems including Providence, Ascension, and Atrium, as well as leading digital health firms like Tia, Carbon Health, and Aledade by subscribing here!